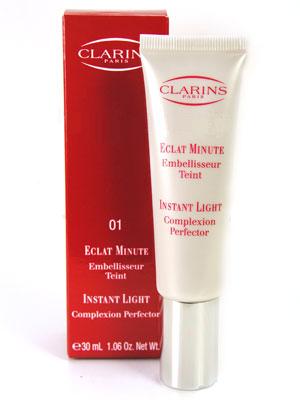 As far as my make-up habits are concerned, sheer foundations and tinted moisturisers and their ilk are grand for weekend wear if I'm planning to do a spot of painting or tellywatching. They are not, as a rule, the sort of thing that I like to wear on a day-to-day basis if I'm planning to, y'know, actually leave the house. So when I plucked a tube of Clarins Instant Light Complexion Perfector in Champagne Shimmer from the depths of my goodie bag from February's Fashion Blogger's Brunch, I have to shamefully admit that I looked that particular gift horse in the mouth good and proper.
Like Yves Saint Laurent's Teint Parfait in Apricot, there's a suggestion attached to these tinted offerings which don't actually call themselves primers or make-up bases that you shouldn't really need to wear foundation over them. Oh sure, the little insert says that you can wear them "alone... or under foundation" but I've always felt that there's a suggestion implied there that really only make-up heathens/Oompa Loompas/Jodie Marsh would go slapping on extra base, sure no-one could possibly need that much coverage.
Clearly these people have never seen me the morning after several glasses of Rioja and not quite several hours of sleep.
Advertised
Well, while I can't say that Instant Light Complexion Perfector has weaned me off foundation completely or totally changed my mind about such products, even I can see that this is a good 'un. It did a Polyfilla number on lines and wrinkles, reduced the appearance of pores, evened skin tone, and added a wee hint of natural colour. It leaves a fairly dewy finish that's more satin pearlescent than full-on shimmery - and while wearing it on Saturday even I only felt the need to slick on a bit of mascara and blush up before I toddled out for a bit of shopping.
Available in 3 shades (rose, champagne or bronze shimmer) for about €28 from your nearest Clarins counter.