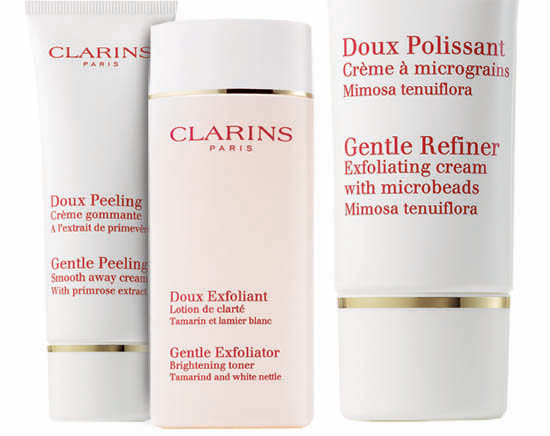 Two of the (many) beauty bits that need to be very much bespoke are products to exfoliate and cleanse. Clarins, handily, are pretty good at that stuff - you lot are vocal in your love for Clarins Pure Melt cleansing gel - and now they've launched three new exfoliators. Why three? Well, there's pretty much one for everyone in the audience.
Lynnie took us through the whys and wherefores of the exfoliating process recently and there are lots of different types of exfoliator out there too: some people like a really scrubby beady-based experience, some like an exfoliating lotion (like Clinique's Clarifying Lotion) and some like the sort of product that you allow to set on the skin and then gently rub off.  Happily, there's one of each of these in the new line, and the three are suitable for all skin types.
From left we have Gentle Peeling, an existing Clarins product, with a new formulation. You apply, let it chew up all the dead skin gunk and then 'roll' it back off the skin again. Great for anyone who's put off by scrub-style exfoliators, and because it's so gentle, sensitive types may like this one the best.
Advertised
What else have we?
In the middle is Brightening Toner. Sweep this on with a cotton pad and the fruit acids inside help to slough off dead skin cells. Use once or twice a week, say the brand. Lastly, we've got Gentle Refiner, an exfoliating cream with microbeads of cellulose and nylon, to effectively de-gunk the face.
All are €30 and are available at Clarins counters now. Which one would you go for?