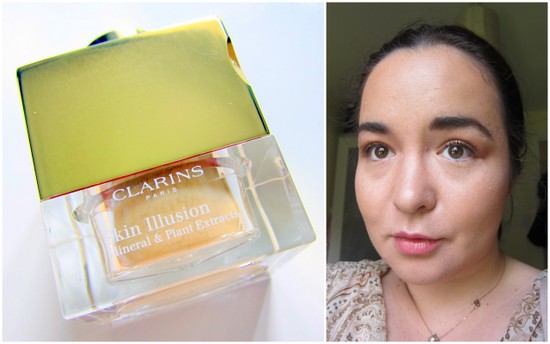 The first thing to tell you about Clarins Skin Illusion Loose Powder foundation is this: do not apply it in the car. Even in the passenger seat. Unless you want a very irritated - and powdery - driver,  and to go about your working day with more makeup on your outfit than your face.
The second thing to tell you about this product is that it's worth taking the few extra minutes, to put it on before you leave the house.  In fact it saves you time in the long run, because it functions as a highlighter, base and powder all-in-one - and you don't apply a separate primer first, either.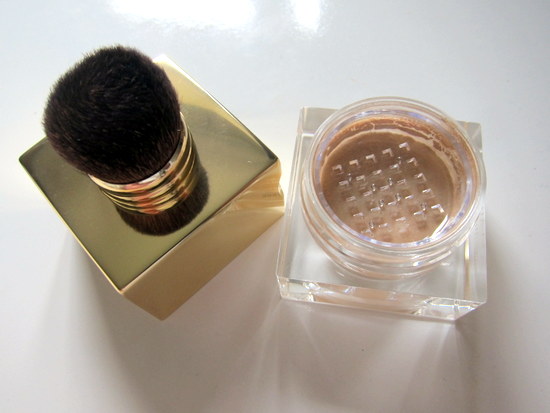 My skin is combination to oily, but I've just started a new skincare routine - on doctor's orders! - and I have a few little dry patches that my usual liquid products have been clinging to. This doesn't do that, it just gently veils the problem areas and makes them less obvious. I also like that it's oil free and  non-comedogenic, so it won't block pores. Lasting power is excellent, and it keeps my skin shine-free throughout the day.
Advertised
It's foolproof to apply - there's a concealed kabuki brush in the lid,  which is brilliant. It's dense, soft and tightly packed, making application a breeze. You can build up the coverage from medium to full, and it won't look heavy, powdery or caked - just prettily natural, with a youthful luminosity.
I want to take a second to talk about the packaging too, because it's lovely. With its gleaming gold lid and square bottle, it looks luxe and expensive - this has definite dressing table appeal.
Part of the autumn collection, Skin Illusion Loose Powder Foundation will be out from September and priced at €36. If you have problem, oily or sensitive skin, this is definitely one to look out for.