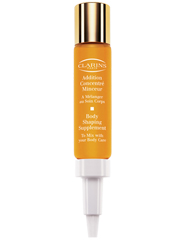 Yesterday Aphrodite posed the all important question: 'what body moisturisers do you rate?' and you answered in your droves - brands as varied as Cien, L'Occitane, Voya, Palmers, The Body Shop and Soap and Glory all got some love.
But what do you do when the holliers are approaching and you'd kinda, sorta, like to use something that'll help to tone wobbles and firm skin, but you're reluctant to give up a fave product? Clarins launched a really smart little solution to this dilemma earlier this summer, and it's their new Body Shaping Supplement. Formulated to work with any body lotion you own, you just add a few drops of this cellulite-busting potion to your regular product and away you go. Smart or what?
Advertised
Like all Clarins products, it's packed full of botanicals and things like caffeine, which work to bust bulges and give you a more streamlined silhouette. And also like all Clarins products, such expertise doesn't come particularly cheap - expect to pay €52 for this feller.