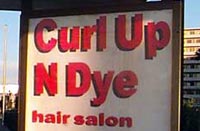 We had a post back in June about the wonderful n' wacky names hairdressers often give their salons. No pun is a pun too far in this business, it seems - British Hairways, Curl up and Dye and Hairport were but three of the funnies we found at the time.
And now I've found some more, and they're all home grown! County Cork is home to both a Splitends and a Belle Hair (presumably you can only go if you're tres posh), Longford gives us Hair Square (might be more appropriate in Galway?), but the best one - oh ladies, that one I'm saving for last...

County Waterford takes the prize for the best, most utterly ludicrously laughable salon name - FOXY CHOPPER!!
Advertised
I bloody love it.