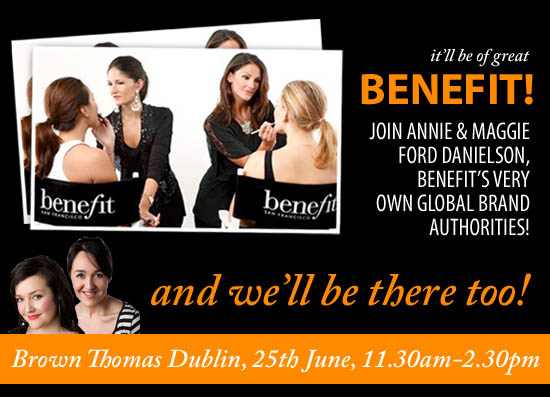 *DRUMROLL*
Here's a little bit of news that's been in the pipeline for a wee while and which of course has been bursting - bursting, I tell you - out of us. Benefit has asked us to appear alongside the fabulous Ford Danielson sisters Annie and Maggie at a Benefit event in Brown Thomas Dublin at the end of the month. And of course we said YES! YES! YES! And then we said YES! again in case they hadn't heard us the first three times.
Here's the official info below - and psst: if you want to attend what we're very sure will be a scorchin'-hot beauty hoe-down, then we'd advise you book your place with the quickness.
Advertised
The Beaut.ie girls – Aisling and Kirstie McDermott (that's us!) will be joining Annie and Maggie Ford Danielson, Benefit's very own Global Brand Authorities (daughters/nieces of Benefit co-founders Jean and Jane Ford) for a fabulous personal appearance at Brown Thomas, Grafton Street where you will learn some of the hottest beauty tips and tricks, demonstrations and the trend talks on the latest beauty buzz.  It's an un-missable stop-off for anyone looking to find out what's new and hot at the Benefit Beauty Bar. Book your place now on 01 605 6666.
Date: Saturday 25th June
Time: 11.30am – 2.30pm
Tickets: €30*
*Ticket price redeemable against Benefit products on the day of the event.  Includes goody bag worth €50. Cannot be used in conjunction with any other offer. One goody bag per customer.