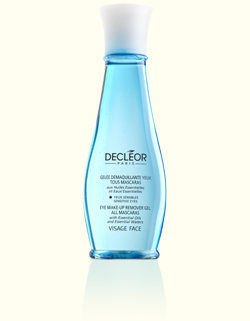 It is my humble opinion that there are two things which should be no-brainers when it comes to eye make-up removers.
One, they should quickly and effectively remove all traces of eye make-up - including waterproof mascara and MAC Liquidlast liners - with a minimum of rubbing. And two, they should not irritate peepers.
Decleor have got it right pretty much right with their Eye Make-Up Remover Gel. Its gel texture means that it clings to lashes and lids to dissolve make-up and impurities while cutting down on excessive pulling at the fragile skin around the eye area. However, when some of this stuff which is apparently "suitable for the most sensitive skin or contact lens wearers" somehow managed to migrate from my (admittedly slightly overloaded) cotton wool pad, through my lashes and closed lids, it scalded the feckin' eyeballs out of me head. And left behind it a slightly sticky-feeling film that I felt I had to rinse off lest my sight-holes become glued together overnight.
Advertised
So less is definitely more where this gel is concerned, but it can boast impressive make-up removing properties - all things considered, thumbs up.