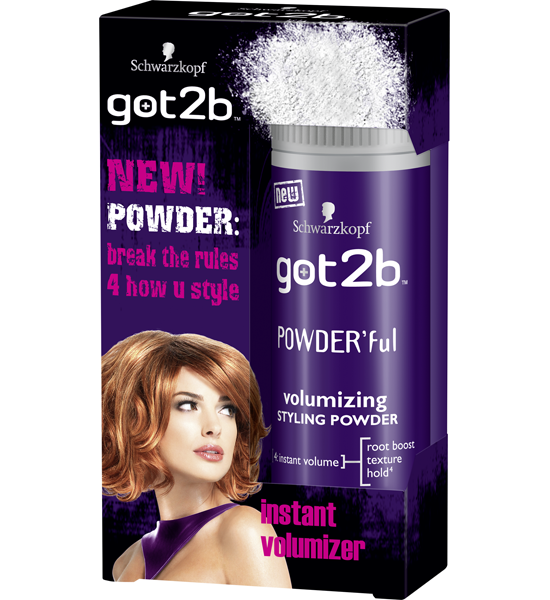 One of the telly programmes I watch regularly is sponsored by Schwarzkopf Got2B products, so I've had quite a bit of exposure to that txt spk name as well as to the impressively massive mop of hair that the redhead in the ad achieves with just a few shakes of their Volumising Styling Powder, €4.89.
Completely forgetting that I already own OSiS Dust It, the professional version of this product - d'oh - I went out and bought Got2B Powder'ful at the earliest opportunity. The similarities are striking: both are super finely-milled white dusts that feel cool to the touch, and each comes as 10g in a container with a pepper-shaker style dispenser. The instructions for use are the same, too: either shake a little product into your palms, rub them together, and dispense through hair, or sprinkle sparingly into roots. And - you guessed it - the product benefits are identical. Root boost? Check. Texture? Check. Light control?
I need hardly say it, but yep. Check.
Advertised
The packaging's a bit different in colour and shape, and there's a ridiculously excessive cardboard outer on the Got2B offering, but otherwise the only difference I can see between these two is price.
Bottom line: if you like Dust It (about €12 in salons) save yourself a fair few bucks by switching to Got2B Powder'ful next time you need to repurchase. You'll find it at selected Schwarzkopf salons nationwide.