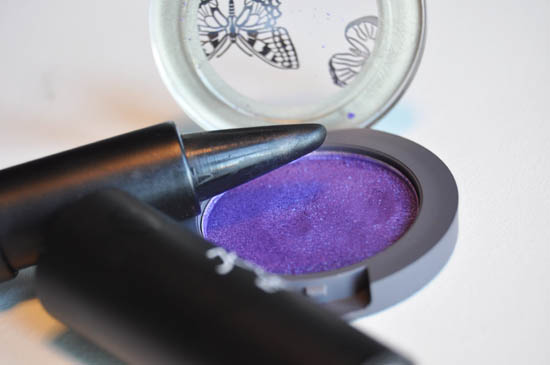 One of my recent beauty obsessions is purple eyeshadow. But there's often a bit of an issue with the shade; namely it rarely looks as good out of the pot as it does in.  It's a particular problem with cheaper brands and there's just something weird in how this shade, vibrant as it can be, transforms into a wishy-washy result on the face.  You're left wondering what on earth happened between pan and lid and why you just can't achieve the depth of colour you really want.
While you can use a shadow primer to add extra intensity and longevity and you can also apply powder products wet for a bit more oomph, one of my favourite ways to add some depth to a bland colour is to layer it over a dark base.
Those Accessorize shadows I picked up in Superdrug in London over Christmas are very impressive both in shade and payoff, especially considering they cost only £4STG. But the brighter, more electric colour (Ultra Violet) is still lacking a little something when applied to the eyes.  It doesn't have the really dramatic, foiled sort of finish I have in mind when I want a deep lavender look, so keeping that depth of colour idea in mind, a slightly tacky black base underneath is absolutely the way to go to add another dimension.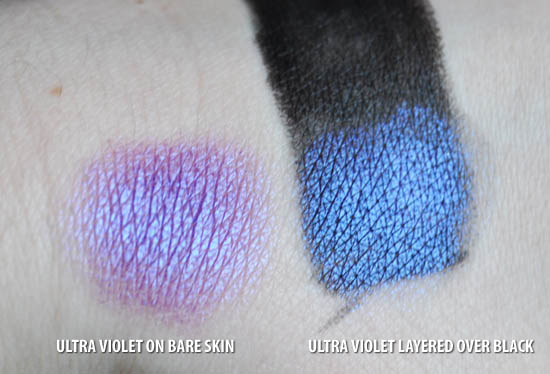 Advertised
I've used a Sleek Kajal as the base here but Mac Paint Pot in Blackground, a soft kohl pencil (Bourjois is a good bet) or a black cream liner  (try ELF or the forthcoming Maybelline Eyestudio one) would also work really well. So this doesn't have to be an expensive endeavour at all, but is a really good trick to know, especially if you're into doing a smokey eye and would like to do ones with some colour.
Ultra Violet is pretty dramatically transformed by patting it on over black, and that's enough for me in terms of the finish I'm after. Give this a go with any shadows or pigments you have that you're not that in love with intensity-wise  - it works particularly well with anything that has some iridescence to it. The technique can also work well for antiquing up metallics, making a bright gold a deep, black-shot one instead, for example.
It doesn't work on every colour and some of your results will be horrible and you wouldn't want them next or near to your skin, but it's definitely one to keep in mind the next time you're frustrated with the payoff from a disappointing shadow.