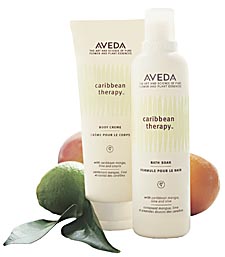 God, hasn't the weather been mad altogether recently? Gorgeous and warm and sunny one minute and flippin' freezing and grey the next, it'd have you fooled into thinking about putting away the winter coat just as the giant hailstones start pelting down.
Well, Aveda have come to the rescue of those of use who are finding it a bit hard to cope with the April showers and are dreaming of more temperate climes. The blurb for their Caribbean Therapy range runs thus: "... body care products that embrace you in the healing feel of Caribbean mountain, sun, sea and air..." Sounds fanfeckintastic, no? Containing blends of exotic island fruit and nut oils to uplift and rejuvinate the senses, it's things like mango and lime and coconut a go-go on the ingredients lists. I've been liberally dosing myself with the lightly moisturising Flower Water containing mandarin, neroli and orange in a desperate bid to bring the warmth of the tropics into my life and it is only fab.
Advertised
You can get your Caribbean fix from Aveda stockists nationwide or from Strawberrynet. Yeah mon!