 Rainbow highlighter is not just for My First Makeup kits. In fact, they can be more flattering than your average highlighter and they suit most skin tones, too
Unicorn or rainbow highlighter is an exciting collaboration of colour that you can apply to your cheekbones and all the high planes of your face and body. What sets them apart from regular old highlighter is that you have the choice of swirling all the colours around to make one shimmery tone or use them individually.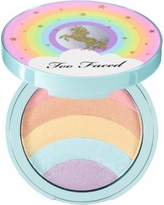 Too Faced Rainbow Strobe Highlighter €28
A good highlighter is hard to come by. But, the Too Faced Rainbow Strobe Highlighter is a gorgeous option for your makeup bag. The colourful compact is also pretty to look at and has the tendency to brighten up your day just upon appearance.
The combination of colours all come together nicely to form the perfect highlighter for most skin tones. But it's high-quality, too; the pigment is excellent and its blending ability is right up there with your MAC and Urban Decay products.
Advertised
If this one is slightly out of your price point and you are not yet convinced that the blue and purple tones will amalgamate to the perfect shade for you, worry not, we have found you a dupe to test it out so you're keeping up with the makeup trends of 2018.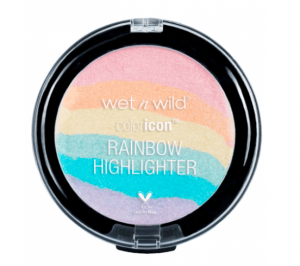 Wet n Wild Unicorn Highlighter €4.99
This Wet n Wild version is excellent despite the packaging not being quite as cute. But who needs packaging when the product itself ticks all the boxes. The pigment isn't quite as bold but the product is build-able so you can layer this highlighter to create the same effect. At that price difference, you can buy four for the price of one!
Advertised
But, there's a catch. It's part of a limited edition collection so it won't be around forever. (See our review of the full collection here.) Wet n Wild available in selected pharmacies, so run to your local now and stock up!