 Q: My problem is how to get a healthy glow; is there a foundation out there that can give me that? I have highlighters that do the trick and look well in photos but up close I'm all caked! I just want something that looks natural.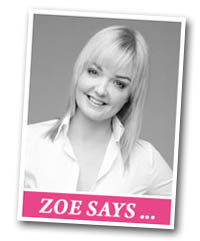 "There are loads of different textures of foundations and often the mind boggles as to which to choose," says makeup artist Zoe Clark. "However as a general rule I don't like to use the term 'cover' when I talk about foundation."
"In fact, I often compare it to varnishing a piece of wood! That is to say, you would lose the lovely sheen and grain of a piece of wood if you were to paint it with a matte brown paint! Why use a heavy foundation if you are maybe only trying to cover a few blemishes? Therefore makeup artists tend to use as fine a textured foundation as we can get away with when we are trying to achieve that dewy look.
Advertised
"Of course you must always consider your skin type when choosing the appropriate type of sheer foundation. For example if your skin is normal to dry, I would usually go for Mac Face and Body (4) (which also has a light-reflective quality). However if your skin is
naturally very oily, I might perhaps go for Estee Lauder's DoubleWear Light (2) (My best advice is to get a little tester of the foundation before purchasing to see how it reacts with your skin type).
"I then would apply a little concealer around the eyes and over any blemishes. After dusting a little powder if necessary on any areas prone to excess oiliness, I would then apply a tiny amount of a light reflective product such as the Copacabana Multiple from Nars (1) or Mac's Strobe Cream (3) on any areas of the face for the natural sheen of a healthy glow, like on the top of the cheek bone or on the bridge of the nose etc.
"You can also of course use a powder highlighter on these areas if you have a tendency to oil up, but be careful again not to go overboard if you have any fine lines or if you want to avoid the cakey look."