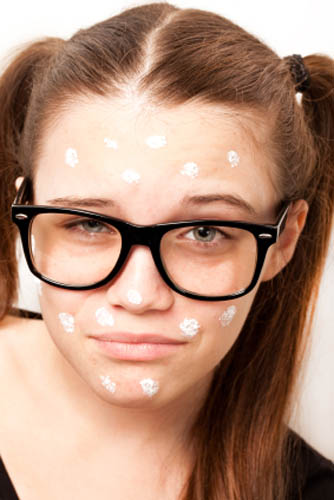 It's not often I get the impression my inbox is haunted or that Big Brother, he is watching, but after yesterday's pleas from you lot for more on oily skin it was hard not to feel slightly freaked out when an email on that very subject landed from Vichy HQ this AM.
Fortutitous good luck or surveillance nonetheless, here are the brand's recommendations for dealing with that most dastardly skintype. Bear in mind, they're all focused towards Vichy's own product range, Normaderm, which you may or may not use:
Oily skin occurs due to the body producing more oil than necessary and is prone to breakouts and blackheads. Normaderm offers a complete skincare range for imperfection-prone skin. Vichy has come up with some dos and don'ts to controlling and caring for your oily skin.
Advertised
Always wash your hands before cleansing your face to protect your skin from bacteria
Cleanse morning and night with a gel or liquid cleansers. Avoid creamy or oil based cleansers. Normaderm Deep Cleansing Gel, €13.25, prevents the formation of excess oil
Use warm, not hot water to rinse
Don't over wash as this can strip your face of the essential oils that serve as a barrier to a lot of irritants
Exfoliate regularly to remove dead skin cells and deeply cleanse
Use a toner on the oily parts of your face to unclog and tighten pores
Moisturize — oily skin needs moisture just as much as any other skin type. Use a product specifically for your skin type such as Normaderm Hydrating Care, €15.75, which gives 12 hour hydration and mattifies skin
Use a daily SPF – choose an oil free version to avoid blocking pores and causing outbreaks
Eat foods that contain Omega-3 fatty acids like salmon, tuna, mackerel, walnuts, almonds and hazelnuts to improve skin texture
Avoid foods high in fat and sugar and increase your intake of proteins and complex carbohydrates
Supplement your diet with lots of fresh fruits, vegetables, and fruit juice
Drink lots of water, minimum one-and-a-half litres per day. It helps hydrate the skin from the inside
Avoid products with fragrances as they can irritate
Never rub, squeeze or pick spots
Choose a foundation specifically formulated for oily skin. Normaderm Teint, €19, offers flawless coverage and minimises imperfections
Source a powder blush instead of a cream formula to avoid blocking pores
In the cases of severe acne it is recommended that you contact your doctor
Add your own recommendations and tips in a comment!