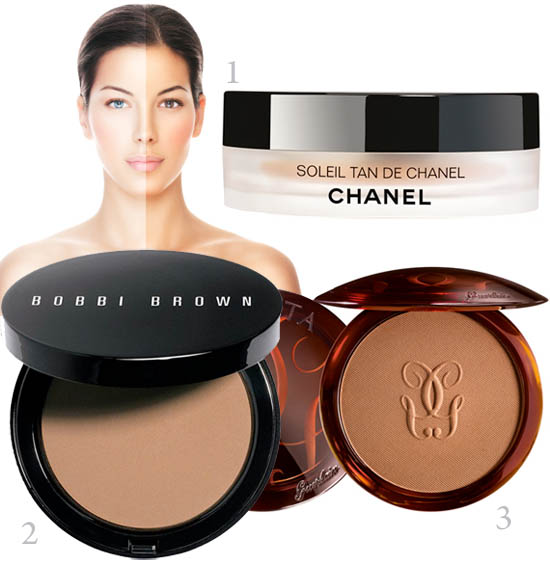 Q: I'm naturally pale but prefer to look more tanned as I'm freckled. I usually go a bit darker than my natural skin tone with my foundation. Whenever I wear pale foundation I'm convinced I don't look as good as when
I go darker
"I can understand your desire to look more bronzed," says makeup artist Zoe Clark, "but as a general rule make-up artists do not
use foundation to give their clients colour. We use bronzer and blusher to add colour as well as definition. However if you are quite freckled and your face is therefore darker than your neck you have two options: you can either lighten your face or darken you neck.
"The only issue with darkening your neck is how far do you go, is it blended properly and are you wearing a collar which will stain? Darker make-up than your natural skin-tone can look artificial. However although I will sometimes go a shade darker on my clients in certain situations, I am also very wary of what they are wearing and I will make sure it is blended to perfection. I personally think it is ok to go half a shade darker on certain skin tones, but be careful!
"You have to be very sure that you don't look orange and your face is not darker than your neck. Ask your friends what they think of your make-up (but be prepared for honesty!). Also I would embrace your freckles and not cover them, as again you can very easily look caked. Pale can also be beautiful. Remember your skin should look like your own only better!"
Advertised
Beaut.ie recommends
Cheaper bronzers can often deposit a lot of colour; they can also often play up to orange tones that don't look natural or realistic, especially if you're using them all over the face and not just on the high points. If you're really determined to add colour to your complexion, then invest some money in a high-quality product like one of the following:
Chanel's Soleil Tan du Bronzer is a soft mousse-like cream that's a classic for a reason. It's easy to apply, build and because it's siliconey in texture, gives a veil of colour. Pricey and there's a learning curve involved due to the formula but this is the one all makeup artists rave about for the natural finish it imparts
Bobbi Brown also does a great range of bronzers in about five shades that are tailored to skintones. Again, not cheap, but well formulated and realistic looking
Guerlain's Terracotta bronzers are fantastic. In Blondes and Brunettes, you can really match your skintone and get a product that won't oopmpa-loompa you, but give you extra colour that will actually work for your complexion
Application tip: less is more so go slow and build up to a colour you like. It's easier to add than take away! We recommend buffing bronzer on with a duo-fibre brush if you're looking to add colour all over the face, rather than a kabuki, as you'll be able to really control how much you're layering, and keep it looking realistic. Mac do great duo fibres, but Gosh's one is ideal - it's very good for powder products.