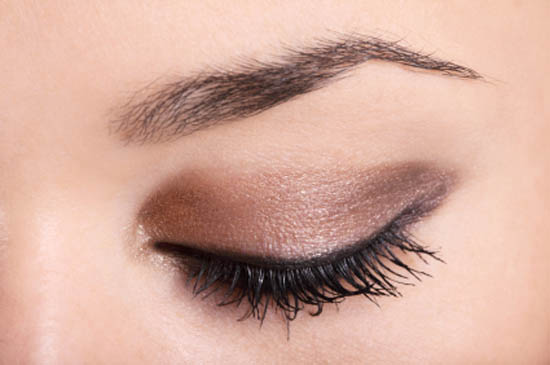 It took me long enough, but I finally got my eyebrows threaded for the first time this weekend. I know, I know - it's 2011 and everyone and her granny has tried it by now. You can hardly turn around in crowded department stores without tripping over a brow bar and they're even doing it in the middle of the floor in The Body Shop. Even Avoca on Dublin's Suffolk Street has a threading chair off to one side, indicating that this form of eyebrow shaping is here to stay.
It's not as though I wasn't aware of the benefits of it - faster than tweezing and not as rough on the skin as waxing, this method of using a twisted cotton thread to remove an entire row of hair in one go also results in a straighter, more precise line to the brow. My hesitation in trying it out was purely down to the whole idea of trusting someone not to completely butcher my eyebrows. I have had them shaped before and while they've never been destroyed, they have been made a lot thinner than I'd like on more than one occasion.
Determined to get over my trust issues, I stopped by the Shavata Brow Studio in Harvey Nichols at the Dundrum Town Centre last weekend. They say you should always check the eyebrows of the person you'll be trusting to shape yours, and I breathed a silent sigh of relief as I checked out the beautifully-shaped brows of the therapist at the counter.
My skin is fairly sensitive and even tweezing has been fairly painful on occasion, so I was braced for the worst, but was pleasantly surprised to find that threading was not particularly painful. There was a slight pinch as each line of hair was efficiently removed, but the effect was more of an irritating itch than anything that would make my eyes water.
Advertised
I tried not to feel too paranoid as I felt the fine hair being removed all the way up to my hairline above each brow, but within 10 minutes I was finished and admiring my newly neat and tidy brows in the mirror. They hadn't been made any thinner, but the shape was a lot better and the effect of tidying up the almost-but-not-quite invisible peachfuzz around and in between the brows made a huge difference. I was also pleased to see that skin redness was minimal, very helpful when you want to continue shopping afterwards.
The cost of an eyebrow shape at Shavata is €20, which is on the higher end, but they do offer a loyalty card where you can earn a free shape for every five you pay for - not a bad deal if brow threading is something you do regularly. I know I'll certainly be going back now that I've got over the fear of putting my brows in someone else's hands!
The Lash Lounge, Harvey Nichols, Dundrum. 01 291 0488; no appointment is necessary.