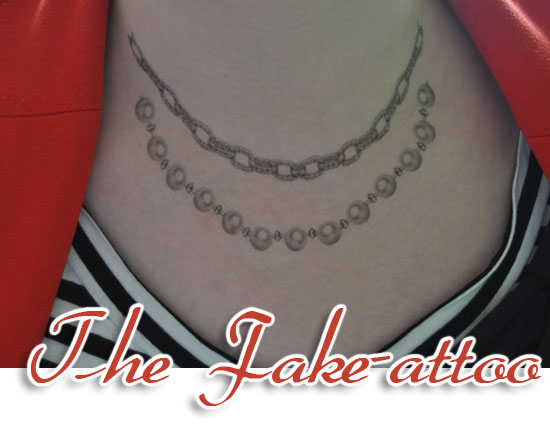 For those of you (about to rock) who were mildly interested in Chanel's were-they-or-weren't-they-chavtastic-but-at-€50-a-pop-we-better-say-chic temporary body art decals, but who naturally enough didn't want to shell out half a ton in case they turned out to be gick, we took a look at Inkwear temporary tattoos last week.
And I ordered me some. Oh yes I did.
And lo and behold, they came in around two days - my shock, it knew no bounds that An Post could actually get things to the church on time. I'd ordered a couple of different types, just to see what was what, and I have to say, my first foray left me a little whelmed - I posted a pic on Twitter for all to see.
Advertised
But then I tried these delightful pearls and chains. Yes yes, someone is having a laugh, a tattooed-on pearl necklace etc, but I have to say, I really like it!  Dead simple to apply, they last a couple of days and can be wiped back off with baby oil or any particularly oily cleanser.
I'm sold, and will definitely use the rest. What do you think, though?
[polldaddy poll="3073501"]