 If you've an office party/a big family/group of pals who buy Christmas presents for one another, then chances are you've already switched to the Secret Santa/Kris Kindle model of present giving.
But what the bloody hell to buy them?  Anonymous present giving can be a LOT of fun.  Forgive me now for lowering the tone but someone has to do it - am I right?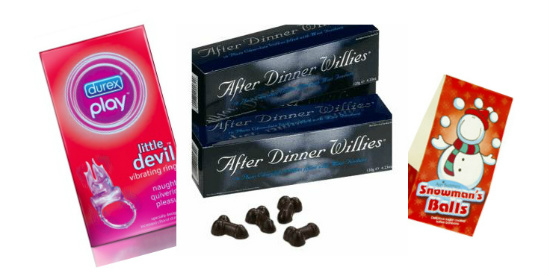 DURTY GIFTS
Yes for all you durt burds out there Kris Kindle is an opportunity far too good to miss.  Your anonymous gift can be used to give everyone around you the laugh of their life - and who knows they might go home, use the present and have a mighty good time themselves.  So everyone wins.
ONE: Edible knickers
According to a report I heard on de radio the other day, edible knickers are among the most popular Kris Kindles around.  Try giving these (anonymously) to your normally staid boss and watch the reaction of general hilarity aided by several million drinks at the Christmas party.  Don't let any of the guys from IT "hilariously" try to eat them and then be sick later in  a corner of the function room.  Buy them from Euro shops, joke shops, and Ann Summers.
TWO: Nipple Tassels
Now these are a little more expensive (depending on where you buy them) and are great for the hidden Dita Von Teese in every woman.  Again I stress,  none of the guys from IT is to be allowed to try them out on the night.  And the twirling of the tassels?  Well I'm reliably informed by girls who are into Burlesque that it's all in the knees - so go practice!  Ann Summers, hen party shops, joke shops.
Advertised
THREE: Chocolate Mickeys
Yes I'm afraid I must lower the tone further by mentioning that old reliable: the chocolate mickey.  No work Kris Kindle would be complete without them.  Once while innocently drinking a glass of wine at a work do, someone crept up behind me and shoved one in my mouth, I nearly choked on the damn thing, but apparently that made it all the funnier.  Ah chocolate mickeys.  Where would we be without you? I like these "touch of class" After Dinner Willies (€5.99)  from henparty.ie where they have a whole category entitled "Willy items" .  Look, just go with it.
FOUR: Snowmans Balls
They only cost €2 so where would you be going?  Throw these in with someone's present, they're seemingly innocent: BUT THEY'RE NOT is the important thing.  Ann Summers
FIVE: Durex Little Devil
One that's certain  to have EVERYONE intrigued (whether they admit it or not).  The Little Devil promises that its "cheeky devil horns" will provide a lorra lorra fun for everyone.  Sneak into the chemist and buy two of these(€8.65) (One for your Secret Santa and sure one for yourself while you're at it.  It's Christmas.  You deserve to have a smile on your face).
Now what else can you suggest that should have made the naughty Kris Kindle List?