 Dryness around the eye area is uncomfortable and can cause makeup to look cakey. Which is why we love this eye cream which sorts out dryness in a flash!
Eye cream is one of those skin care products that you need to use religiously, right? Well, that's what we're told anyway. Like a lot of people, I'm guilty of only slapping a bit on whenever I'm looking tired or drained. But recently I've been converted. It all started when I noticed my concealer looking a little dry. That had never happened before, and a voice in the back of my head started whispering that it must be because I'm getting... older.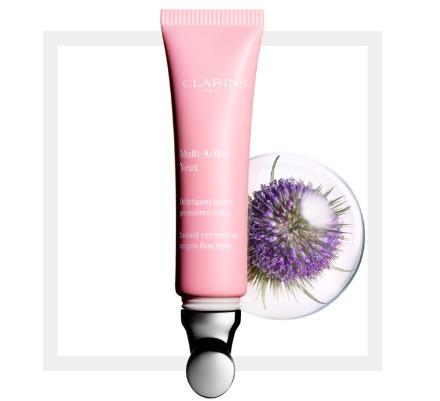 Now, obviously, I am (as we all are) getting older. But I'm not sure whether that was the sole reason for my newly dry under eyes or if it was lack of hydration. But the upshot is, my make-up, and therefore face, weren't looking the May West.
Advertised
So, I decided to try the Clarins Multi Active Yeux eye cream (€42). After all, it's designed for people with hectic lives (tick) to combat fine lines (yes, please) and dryness (whoop!). Plus, I always like when eye creams have the special metal massaging tip on them, they feel so cooling and soothing. Another thing that attracted me to the Multi-Active Yeux eye cream is that it has a super light cream-gel texture.
Years ago I tried heavier eye cream formulas and they left milia around my eyes which were a pain to get rid of. As you can imagine, it put me off eye cream for a long time. But this one is much, much lighter and absorbs in a flash. In terms of hydration, it worked after one application. Seriously, the dryness? Gone. Completely gone. So if you're in a similar boat and don't mind spending a little to get a lot, then this eye cream is definitely one to check out.