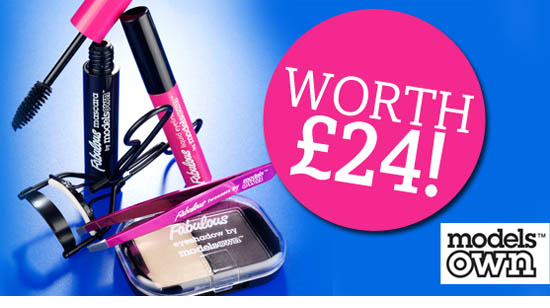 Because Models Own/Diet Coke/Boots didn't see fit to include Ireland in its current promo to bag a Nails Inc polish with every two 500ml bottles of Diet Coke you buy (wah!), lets check out an offer you actually CAN get ROI-side.
Reader Little Blue brought this to our attention over Christmas: Fabulous magazine (it's the glossy inside the News of the World) has something pretty darn decent to offer up to readers. They've got a FREE Models Own kit for every reader which you can get your mitts on by collecting tokens from the paper and then redeeming them at a Tesco store.
My info is just what I've gotten from the Fabulous.co.uk site so we can't tell you which Tesco stores they'll be at, but what we can tell you is that this is what's on offer for zero cent:
Liquid eyeliner
Tweezers
Eyelash curler
Mascara
Eyeshadow
All dickied up in a cute make-up bag.
Plus all Fabulous readers can save 25% at Modelsownit.com, where you can buy the whole range of products.
Advertised
So, from this Sunday the 9th until the 23rd, they'll be printing a token per week in the paper. You need to collect two of 'em and then head Tesco-wards. Again, please, don't be asking us which Tesco - we don't know!  I would imagine Fabulous will make that info known within the paper, and if you do know, then by all means leave us a comment to let others know.
What do you think? Is this an offer you'll avail of?
Lastly, here are the official Ts&Cs from the Fabulous.co.uk site:
ROI TERMS & CONDITIONS: COLLECT TWO OF THE TOKENS WE WILL BE PRINTING IN FABULOUS MAGAZINE BETWEEN JANUARY 9-23, 2011, AND TAKE ALONG WITH YOUR COMPLETED COUPON (WHICH WE WILL BE PRINTING JANUARY 16 & 23, 2011) TO A TESCO CHECKOUT OPERATOR AT A PARTICIPATING TESCO STORE TO RECEIVE YOUR FREE MODELS' OWN EYE MAKE UP KIT. THE OFFER IS AVAILABLE IS ALL PARTICIPATING TESCO STORES IN IRELAND. ONLY ONE COUPON PER PRODUCT PURCHASED, OFFER IS SUBJECT TO AVAILABILITY. VALID IN ROI ONLY. MAY NOT BE USED IN CONJUNCTION WITH ANY OTHER OFFER. NOT REDEEMABLE THROUGH TESCO.COM. THE TOKENS HAVE NO CASH VALUE. NO CHANGE WILL BE GIVEN. COPIED, DAMAGED OR DEFACED TOKENS OR COUPONS WILL NOT BE ACCEPTED. VALID JANUARY 16 2011 TO JANUARY 24 2011.