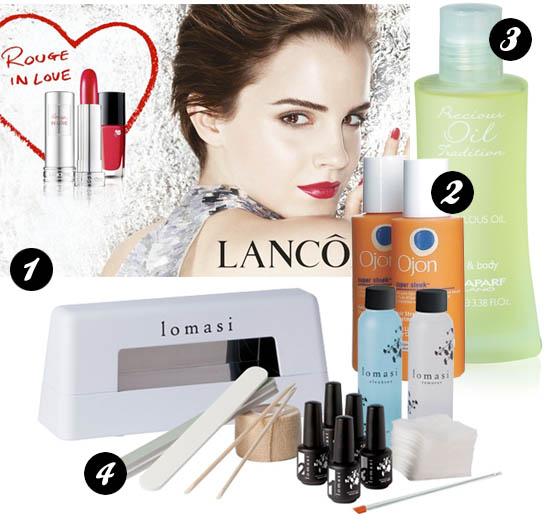 It might still be all doom and gloom in the Irish economy but in the business of beauty, things are booming. 2012 looks set to be another bumper year for sparkly new products, innovations and trends. If the US - and what's been happening so far in our own chemists - is anything to go by, mass and budget beauty are only going to get better. That's excellent news for anyone watching their pennies.
Macaroon brand Lauduree's inroads into colour cosmetics herald the increasing trend for traditional fashion (and now food) retailers like Aldo, Superdry, TopShop and American Apparel to move into cosmetics.  It's a cross-polination that's taking with it a new sensibility and enriching the sector. We're seeing a new rise in niche beauty too as more indie brands come on board to satisfy customers whose needs aren't met by the behemoths. In Ireland, we've seen tons of new companies - Bearna Natural Care, Kinvara Skincare and Human + Kind were just three we featured last year.
Lastly, in a general sense, we'll be seeing more Asian influences entering the European makeup market as beauty brands capitalise on our love for all things kawaii. BB Creams are the forerunner of the trend and brands like Avon and Estee Lauder have also released jelly-core lipsticks, a Korean innovation they've taken inspiration from.
As topline market trends, I think we can definitely expect to see a lot more of the above over the next 12 months. But what else might we expect to see for 2012? Here's what I reckon:
Makeup
Embellishment is going to be big. Chanel sent models down the catwalks at its SS12 show with pearls attached to ears, lips and brows. We've already come a long way with what we're comfortable wearing on our faces too if lashes and HD Brows are anything to go by - and last year Nail Rock debuted face crystals that were quite expensive, but a very accessible way to get stuck on quickly. Expect to see face furniture available cheaply this year, and expect to see people wearing it too
Hybrid makeup formulations are finally delivering on their promises. The last year has seen genuinely good eyeshadows that work as well wet as they do dry (Estee Lauder's Cyber Eyes, Bourjois' Little Round Pot Intense and YSL's Pure Chromatics are three that stand out)
Lips rule: lipstick formulations keep moving onwards proving that lips are something we can't get enough of.  Lancome has a new line fronted by Emma Watson out in Spring, Rouge in Love (1), we've already taken a look at YSL's innovative Glossy Stains and Maybelline Super Stay 14 HR Lip Color for Spring 2012 are out in the US, so we can expect to see them debut here at some point too
Advertised
Skincare
Expect micellar cleansing waters to hit the mainstream more this year. Bioderma's cult Sensibo is the one all the bloggers tip the nod to (we're not fans here though) but these water removers keep gaining in popularity. Expect to see more and more brands releasing them in 2012
This will be no surprise to any of you, but this will be the year that botanical oils take the mainstream by storm. We've seen it slowly building with the argan craze and all know how beneficial they are to skin, but lots of beauty consumers have no idea what little powerhouses vials of skin-kind oils are. Expect them to be nicely surprised in the coming year
Care and colour will be a feature of skincare launches in 2012 as the BB Cream craze hots up. We've had nods to the trend before with vitamin-infused blushers, and Clinique's antioxidant lip smoothies, for example, but the time is now ripe for a proper wash of skincare launches across brands that address skincare concerns along with excellent makeup results
Eco/performance hybrids:  last year, we started to see a move away from the pure desire to have 100% organic products which were a very nice idea in theory but sometimes didn't perform, and a move towards sustainable beauty buys that contained organic ingredients as well as high-tech inclusions that performed specific functions, like collagen plumping for example. It's a best-of-both-worlds approach that doesn't always appeal to eco purists but one which delivers performance with conscience-clearing benefits to the consumer
Claim substantiation: brands are going to start having to come good on their claims. 15 hour wear, 25 hour wear - these sort of claims aren't believable and women don't buy them. In addition, the overwhelming claims delivered by anti-ageing creams are going to have to be tamped back if women are ever going to have any faith in beauty companies again. There is very little trust between the consumer and the brand at this point in time
In body, the move away from fake tan with DHA and developing time is becoming more marked. We can expect to see more quick wash-on, wash-off tans for weekend and evening use. Irish brand Karora has just launched its new Instant Tan, which does exactly that
As we become more comfortable with the use of botanical oils, I think we might expect to see a small rise in availability body oils in the middle-lower end of the market
Hair
Powders and oils are going to continue to be big products for hair brands as ironically, we all want our ends sleeked and our roots de-greased. Other alternatives to the argan oil we've all come to know and love will enter the fray this year - Alfaparf has just launched a collection using prickly pear oil, for example (3)
Hair pieces, clip-ins and extensions are set to become even more popular and volume is a trend lots will tap into. It's less about length, and more about fullness
The biggest trend and challenge for a lot of companies is at-home straightening. Technology has now moved onto the point where it's possible to get the effect of a 12 week blowdry at home - Ojon's Super Sleek line (2), a natural version of a hair straightening system, launches in the US this month, so we can expect to see it on this side of the pond sometime this year. Likewise, other brands will not be far behind
Nails
Gel at home will be a big trend this year. Already in the US you can buy kits including the UV lamp for under €100 (4), and we can probably expect to see them becoming available here shortly too
Texture will be big this year as well.  Prepare to see lots of embellishments, stick on jewels and canes plus created textures using tools and polish
Nail wraps definitely haven't had their day and the arrival of Sally Hansen's excellent ones to our shores just ups the ante for the other brands. We'll be seeing lots more where they came from with better stick and flexibility, plus new patterns, texture and lots of innovation
Advertised
What do you think? Got any future trends or thoughts to add to my 2012 predictions? Add them in a comment!