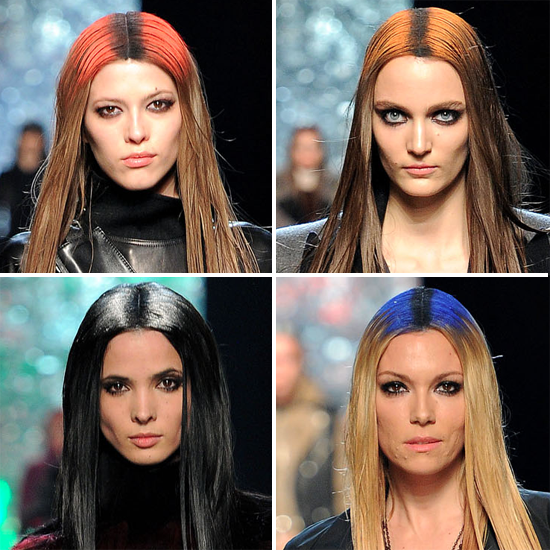 Beauty trends for AW12 keep rolling out as fashion weeks rumble on. The spotlight's on Paris now and as usual, it's pulling out all the stops. New York tends to be pretty pared-back beauty wise; London will usually throw up something interesting, a good bit of bonkers slap and fun, Milan I generally tend to bypass and Paris - well, Paris is where it's at. Nothing like a French runway show to reinvent old standards, inject life into classic beauty looks for yet another season, or just come up with something completely new and innovative.
Here's a case in point: We're all well versed in the dip-dye hair trend at this stage - even our own Lynnie got her ends pinked with great success - but Jean Paul Gaultier had to go one better and do the top of the head. Roots and the first few inches were sprayed with colour, the rest of the hair was left straight and sleek and makeup was pared down and fairly minimal to match.
Will it catch on? Is it an on-trend love in for you or is this a classic case of parting is such (sweet) sorrow?
Advertised
Tell us in a comment!