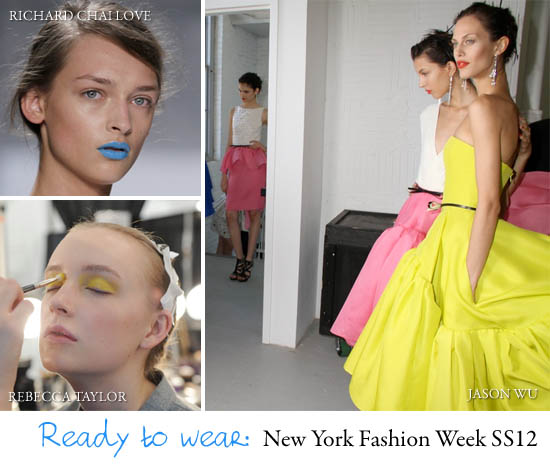 Ah fashion week. So many, so varied, so confusing. But still, you'd have a heart of hardened, sharpened stone if you didn't get even a little excited by 'em. New fashiony things to covet! Stuff you really hope Penneys knock off in double quick sharp time for €5.99! Currently showing in New York are the Spring 2012 ready to wear collections and I've been scoping out the backstage beauty to see if we can get a head-start on anything particularly stylin' come the new year.
New York is never as out there beauty-wise as Paris or Milan. The really, really big bonkers makeup guns tend to get polished and loaded to the hilt for the couture shows and avant garde designers like Viktor and Rolf, and NYC tends to serve us up slices of big city cool that yeah, in general are very wearable. Jason Wu's entire look in particular is incredibly put together and pretty; Rebecca Taylor's soft, diffused take on pop art eyes is one lots will try out next summer and it's only really Richard Chai Love (so far) who's gone all out with a directional blue lip.
So, lets take a look!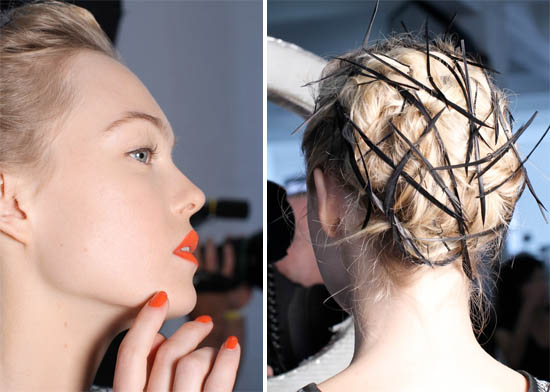 Hair at Jason Wu fascinated me: created by Odile Gilbert for Kerastase, yes, those are feathers you're looking at, apparently anchored into the model's barnets with many a kirby grip. It's stunning, and it's also really wearable. Makeup was by Diane Kendal for Mac (she did the amazing metallic eyes we swooned for at his last fashion week too, fact fans) and it's a clean skin with a pop of colour look that's really easy to do and wear.
According to WWD.com, inspiration here was 90s graf artist Kaws plus pop art influences. Studio Finish concealer and Blot Powder perfected skin and Blacktrack Fluidline gel liner was used along the top lash line only, sweeping it on to the lashes at the outer corner - nope, no mascara. Interesting, eh? Cubic Blush, (a pink), was applied to the lower part of the cheek, and Silver Dusk Pigment was used as a luminiser high on the cheekbones, down the nose and and inner lower lash line to catch the runway lights, apparently.
Advertised
For lips, Redd Pencil and Scarlet Ibis lipstick were used with Neo Orange Pigment on top.  Opi was the nail paint of choice - in the pic above you can see Monsooner, but Later was also used.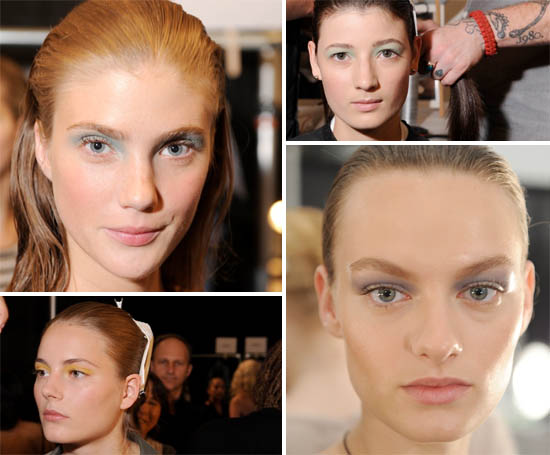 At Rebecca Taylor, 90s-era Kate Moss was a beauty influence. Hair was tousled and beachy, using salt spray and makeup was again by Mac. Sil Bruinsma was the artist in question; a clean skin canvas was the base and then cream shadows were used for eyes. I don't have many details on what exactly (Mac will probably send us through the colour charts so I'll update if so) but I'm wondering if these might be the Big Bounce shadows.  A sheer pink gloss was used for lips and a cream blush in two rosy shades was blended together for cheeks. The message here? Fresh, light, dewy and not trying too hard.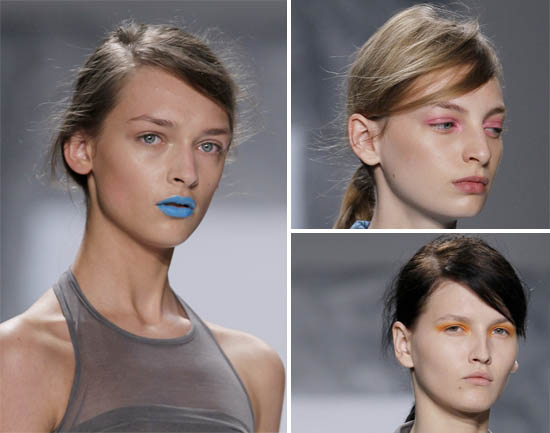 Richard Chai Love had a bit of directional and a bit of pop going on: "It's Harajuku girl meets Venice Beach," Mac artist James Kaliardos told WWD.com. To get that in yer face blue lip, he used Hi-Def Cyan Pencil and Paint Stick in High Def Cyan but us mere mortals could happily slick on that blue Sleek Pout Paint to get exactly the same effect.  And you might have to anyway, unless you've a Mac pro store near you or you're a makeup artist - you'll find it hard to get your hands on the stuff he used otherwise.
Again, skin was clean, brows were deliberately brushed upwards so that attention would be drawn to the colour blocked shadow on lids - created using MAC Orange Chroma line or Process Magenta Chroma line on eyes. No mascara, and no under eye pencil left things looking edgy.
Advertised
So, what do you find you liked the most from the three looks shown? I'm most drawn to Jason Wu - but basically that's because I do my makeup like that a lot anyway.  The soft pop eyes are tempting ... and if we get a few more nice days in September, then hey, I may give this an early pre-season fixture
Pic credits: wwd.com