 In some ways, I find the transition from summer into autumn to be an easy one. I mean, yes, my skin's gone mental and having to wash all my scarves is a pain in the Swiss and I'm still looking for the perfect pair of boots and it's flipping freezing, but putting away the Rainbow Brite summer cosmetics in favour of more smoky and sultry shades hasn't been much of a hardship at all.
Even if you haven't yet fully embraced AW-appropriate colours, I have a feeling that this selection of bang-on-trend autumnal nailspiration from the Autumn/Winter 2012 shows might persuade you to come over to the dark(er) side.
Fashion's love affair with variations on the French manicure continues apace, which is handy since it makes for an easy but effective nail art DIY. Deborah Lippmann's taupe-tipped oxblood/burgundy nails for Bill Blass (top left) are a subtle, very wearable twist on the key colour of the season, and her gold-on-deep-aubergine creations for Badgley Mischka (top right) are perfect for tipping the nod to AW12's baroque trend.
The colour or texture tipped nude French manicure gives the illusion of elongated fingers and foreshadows next season's obsession with nude nails, but I always feel that it can make you look like there's a week's worth of dirt under your fingertips. Stick with rich, deep reds rather than much darker shades for a pop of on-trend colour that can't be mistaken for unwashed digits.
To recreate either look at home, paint prepped nails with two coats of your main colour and sweep the contrasting shade along the tips. The beauty of the reverse French is that it requires less precision than its traditional white-tipped equivalent: it's much easier to create an imaginary smile line than to mirror your natural one exactly. Try using a small-headed and short-bristled paintbrush, eyeliner brush, or nail art brush like the Orly Instant Artist Detailer (€14.13 from Cheap Smells) when doing the tips if you find that you need more control.

Advertised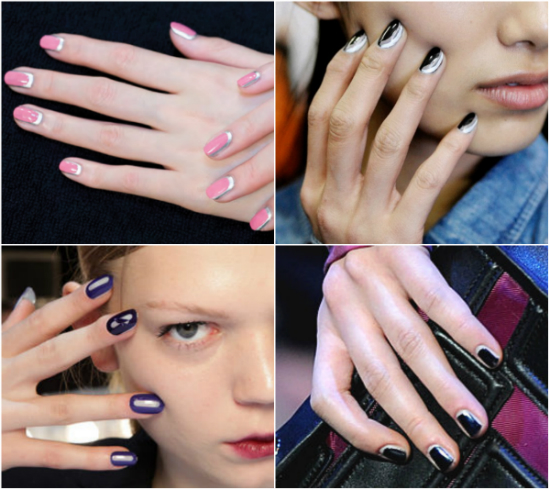 The border or outline mani turned up in various guises at the shows, and Chanel's bright pink and silver take (top left) will find favour with anyone who's not quite ready to wave a final goodbye to summery shades. I especially like the version seen at Versus (bottom right), where it appears that someone was playing Operation with nail polish ("can't... let it... touch... the cuticles!") so just painted the centre of the nails.
Getting the look for most of these is easy peasy - if you don't believe me, have a gander at my guide to the outline/border mani here and my Chanel how to here.
I'll leave you with a close-up of my favourite of the border-style manis: the tri-colour nails Essie created for 3.1 Phillip Lim.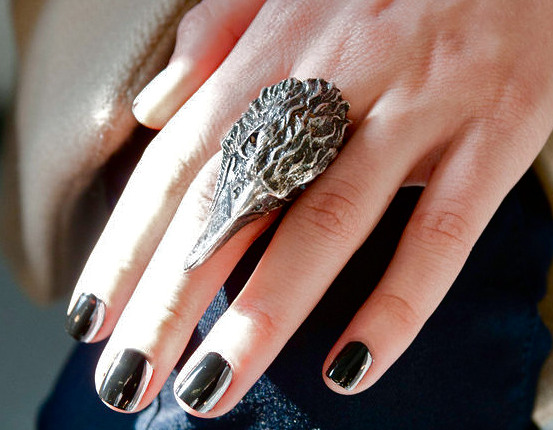 Nails were painted with Essie Liquorice before a crescent of Chinchilly and finally a sliver of Blanc was painted along one side of each nail, but I have a suspicion that it might be simpler to achieve a tidy result at home by reversing that order. I'll be DIYing by laying down a stroke of my white polish first, moving in and painting a curved swipe of grey, and then filling in the remainder with black polish.
Advertised
Anything there take your fancy?
'Tip-top Lovelies' image credits, clockwise from top: Deborah Lippmann; Deborah Lippmann; Deborah Lippmann; CND; Russh Magazine; CND.
'Borderline' image credits, clockwise from top: Chanel via Beauty Hunter; Essie; Getty; Becky Maynes via Inspirationail. Final Essie image: Getty.