 Brought to you by L'OCCITANE
If you want guaranteed happy reactions to every Christmas gift you give, get them from L'OCCITANE.
Present shopping can be stressful, especially if you're buying for people who are notoriously hard to please. Dads, mothers-in-law, the co-worker you got for Kris Kindle, oh my! So, what if I told you that there was a premium destination where everything in store is a sure-fire pleaser? Mention L'OCCITANE, the luxurious natural French beauty brand, to anyone who appreciates the finer things in life and the reaction you get will be encouraging. The products are nothing but the best quality, but you don't have to be a millionaire to purchase, either.
For Christmas, L'OCCITANE has the perfect gift for everyone, whether they are hard to buy for or not. They'll love the product itself, but the packaging will also delight - and we know how important that is at Christmastime! Speaking of packaging, L'OCCITANE hasrecently partnered with TerraCycle® to recycle your empties, which can be from L'OCCITANE or any other brand. Simply bring 3 empty bottles at any of the L'OCCITANE boutiques and receive a 10% Off full-priced product. If the person you're buying for supports saving the environment (who doesn't?), this is a lovely and fortuitous bonus.
Gifts For Her Under €100
Terre de Lumière Luxury Collection €92 worth €124.50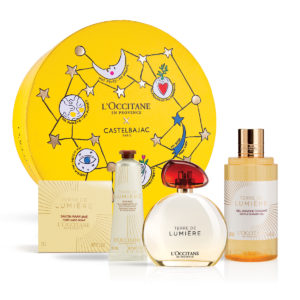 Indulge in this luxurious and tantalising gift inspired by sunset in Provence when the sky is set alight, embracing all the shades of gold.
Zesty and aromatic at first, this signature fragrance collection unexpectedly melts into an infinitely gourmand heart, before settling into sensual balsamic and musky base notes.
This exquisite gift includes:
90ml Eau de Parfum Limited Edition Design
250ml Terre de Lumière Gentle Shower Gel
50ml Terre de Lumière Beautifying Body Lotion
30ml Terre de Lumière Radiant Balm
in a L'OCCITANE signature gift box.
The Best of L'OCCITANE Collection €85 worth €95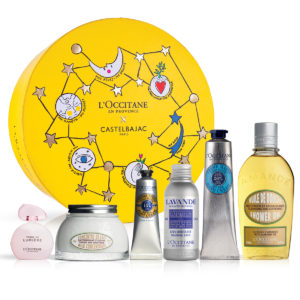 This Christmas, L'OCCITANE has supported UNICEF* to raise funds for its fight against vitamin A deficiency – one of the leading causes of preventable childhood blindness.
For every Best of L'OCCITANE gift box sold, L'OCCITANE will donate €15 on your behalf to UNICEF.
Including all of our most loved products, this collection is the gift that gives back this Christmas.
*UNICEF does not endorse any company, brand, product or service.
This luxurious collection includes:
250ml Almond Shower Oil
100ml Almond Milk Concentrate
100ml Lavender Foaming Bath
75ml Shea Butter Hand Cream
30ml Shea Butter Foot Cream
5ml Terre de Lumière L'Eau Eau de Toilette
in a L'OCCITANE signature gift box.
Néroli & Orchidée Luxury Collection €69 worth €87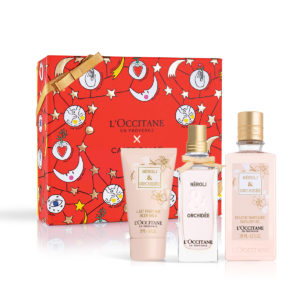 With zesty notes of orange and mandarin, Néroli & Orchidée reveals another facet of Neroli (orange blossom essential oil) through resolutely floral notes, heightened by the elegant presence of white orchid.
This elegant and sophisticated collection contains:
75ml Néroli & Orchidée Eau de Toilette
245ml Néroli & Orchidée Shower Gel
50ml Néroli & Orchidée Body Milk
in a L'OCCITANE signature gift box.
Verbena Luxury Collection €69 worth €85.50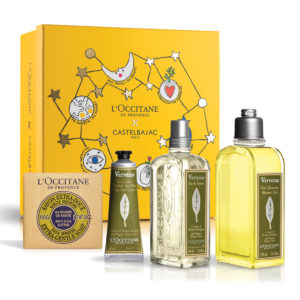 The fresh, citrus scent of verbena essential oils has the unique ability to energise and revitalise the body whilst also balancing and calming the mind - the ideal way to kick start the day.
This stimulating collection includes:
100ml Verbena Eau de Toilette
250ml Verbena Shower Gel
100g Shea Verbena Extra Gentle Soap
30ml Verbena Cooling Hand Cream Gel
in a L'OCCITANE signature gift box.
Immortelle Reset Face Care Routine €62 worth €72.50

Discover L'OCCITANE powerful botanical complex with Immortelle essential oil from Corsica in this exceptional face care routine.
Day after day see skin transform to become visibly younger, brighter and re-energised.
This skin beautifying gift includes:
Immortelle Oil Make-Up Remover 30ml
Ideal for all skin types, this silky cleansing oil removes even the most stubborn makeup such as waterproof mascara, as well as impurities. Day after day, skin becomes more supple and soft.
Immortelle Essential Water 30ml
This alcohol-free toner will remove traces of make-up, hydrates, refreshes and tones skin. Skin feels plump and ready for your daily skincare ritual.
Overnight Reset Serum 30ml
This extraordinary night serum will leave you with skin that looks rested, fresh, more youthful and radiant. It suits all skin types, and works in combination with all L'OCCITANE face care serums and moisturisers.
Precious Cream 8ml
This moisturiser reduce the appearance of lines and wrinkles, boost the skin's firmness and offer lasting anti-ageing protection. With daily use, the epidermis is re-invigorated, soft and comfortable. Skin is smoother and firmer; its youthfulness is prolonged.
Nourishing Shea Butter Collection €55 worth €62.50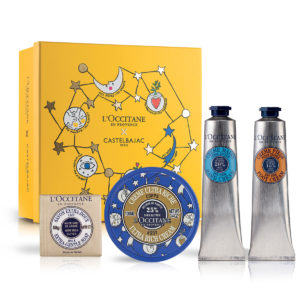 Deeply nourishing, protecting and soothing, our Shea Butter collection is the ultimate winter must-have.
Discover the secret of soft, smooth skin with this gift including:
75ml Shea Butter Hand Cream
75ml Shea Butter Foot Cream
100ml Limited Edition Design Ultra Rich Body Cream
50g Extra-Gentle Milk Soap
in a L'OCCITANE signature gift box.
Since 1980, L'OCCITANE has worked in partnership with women in Burkina Faso, creating a sustainable supply chain.
Today there are more than 10,000 women working in the shea butter cooperative.
Gifts For Him Under €100
Advertised
L'Homme Cologne Cedrat Collection €69 worth €95.50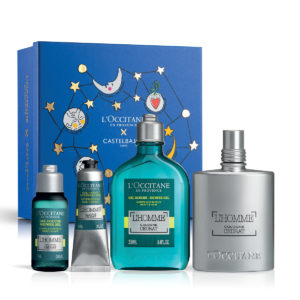 Refreshing, masculine and full of character, this collection blends citrus notes of cedrat with icy notes of mint and woody spices.
This fresh and masculine set contains:
75ml L'Homme Cologne Cedrat Eau de Toilette
250ml L'Homme Cologne Cedrat Shower Gel Body & Hair
30ml L'Homme Cologne Cedrat Gel-Cream After-Shave
50g L'Homme Cologne Cedrat Soap
in a L'OCCITANE signature gift box.
Aromatic L'OCCITANE Collection €69 worth €87.50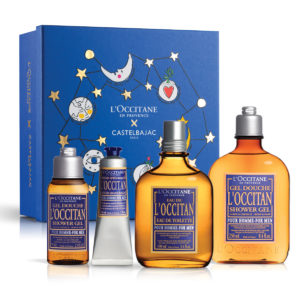 Sophisticated with an unexpected twist, the L'OCCITAN collection suits the modern gent who has style and panache. The carefully crafted fragrance of distilled lavender blended with nutmeg, black pepper and smoked woods is redolent of the natural scents of Provence.
This spicy gift includes:
100ml L'Occitan Eau de Toilette
250ml L'Occitan Shower Gel
75ml L'Occitan Shower Gel
30ml L'Occitan After Shave Balm
in a L'OCCITANE signature gift box
Invigorating Cedrat Collection €69 worth €87.50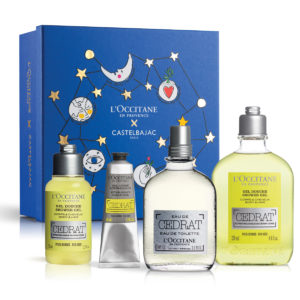 The first impression of this collection is a cascade of freshness: a green, citrusy, joyful, sparkling scent. Then, very quickly, the undeniably delicate nature of the fragrance is revealed through the bitterness of the woody rind. Fine and distinguished, cedrat asserts its innate elegance, which blends harmoniously with that of bergamot. Aromatic spices and a slightly smoky, woody base enhance the overall impression of sophistication.
This sparkling gift includes:
100ml Cedrat Eau de Toilette
250ml Cedrat Shower Gel
30ml Cedrat After Shave Cream Gel
75ml Cedrat Shower Gel
in a L'OCCITANE signature gift box.
Hydrating Aqua Réotier Cream Collection €59 worth €72 (Unisex)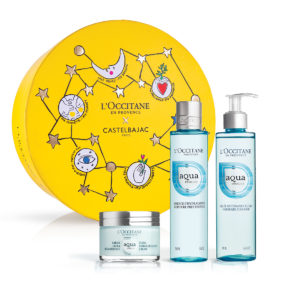 Formulated with calcium-rich water from the Réotier spring, this collection promise to lock in moisture for powerful hydration that lasts all day long. Skin will feel hydrated, nourished and ready to tackle the day ahead. .
This skin thirst-quenching routine contains:
195ml Aqua Réotier Water Gel Cleanser
150ml Aqua Réotier Moisture Prep Essence
50ml Aqua Réotier Ultra Thirst-Quenching Cream
in a L'OCCITANE signature gift box.
Gifts for Her Under €50
Delightful Tea Gift Set €35 worth €45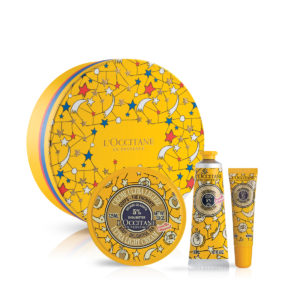 Discover our limited edition Delightful Tea collection - a fresh, pure and luminous scent evoking a soft wind blowing on a field of white flowers. An elegant interpretation when fresh and invigorating green tea encounters the floral and feminine notes of jasmine, honeysuckle and orange blossom.
Don't miss out on this limited time only gift including:
125ml Delightful Tea Ultra-Light Body Cream
30ml Delightful Tea Light Hand Cream
12ml Delightful Tea Lip Balm
in a L'OCCITANE signature gift box.
Shower Gel Quattro €25 worth €29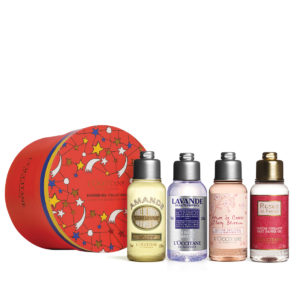 Delight and excite your senses with this collection of bath-time luxuries. These rich textures and evocative scents promise to transform your daily routine into a pampering ritual of wellbeing.
Indulge in this festive collection including:
75ml Cherry Blossom Shower Gel
75ml Almond Shower Oil
75ml Lavender Shower Gel
75ml Roses et Reines Shower Gel.
Gifts for Him Under €50
Cade Shaving Duo €39 worth €46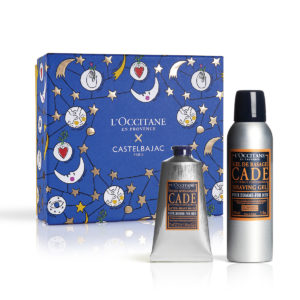 Enriched with a purifying and stimulating complex of cade essential oil, protecting shea butter, moisturising vegetable-based glycerine, soothing bisabolol and firming extract of birch sap, this set contains all the essentials for a perfect shave.
This woody scented shaving set includes:
150ml Cade Shaving Gel
75ml Cade After Shave Balm
in a L'OCCITANE signature gift box.
L'OCCITANE Voyage Collection €22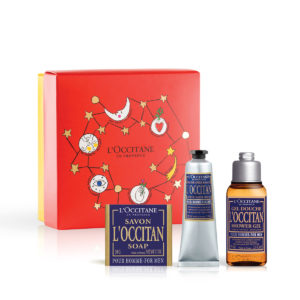 The perfect travel kit for men, these L'OCCITANE grooming products feature peppery notes of smoky woods and aromatic lavender.
This masculine set includes:
75ml L'OCCITANE Shower Gel
30ml L'OCCITANE After Shave Balm
50g L'OCCITANE Soap
in a L'OCCITANE signature gift box.
Advertised
Gifts available in L'OCCITANE stores nationwide or online.