 This article is brought to you by L'Occitane.
L'Occitane are giving us real summer vibes with their beautiful new food inspired range.
We all know how important a nutritionally balanced diet is for our general health, but did you know that food can also play a huge part in your beauty regime?
By eating certain foods, you can boost the radiance of your skin, grow super strong nails, and improve the shininess and quality of your hair.
For beautifully glowing skin, you need to ensure you are consuming sufficient amounts of Vitamins C, A and E, plus plenty of essential fatty acids.
The new L'Occitane range
And now, thanks to L'Occitane, you can slather your face in delicious beauty-boosting food products too! Well, food infused products, that is.
Their brand new mask range and their new lip collection are both inspired by the wonderful beauty benefits of food.
Starting with the new mega mask range, each has been formulated to do very important and specific things. One that exfoliates to bring radiance, one that soothes and one that purifies. Each mask can be used individually, all over the face, or combined and used on different sections of the face to create a custom facial.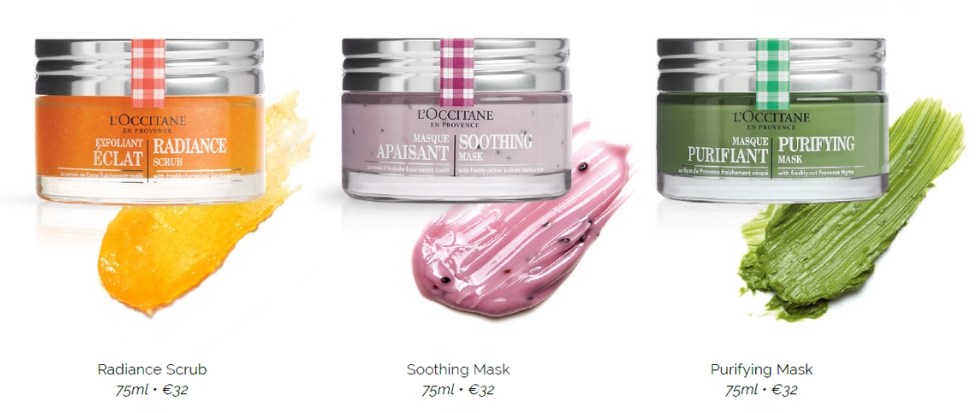 Radiance Scrub - 75ml - €32
Enriched with freshly harvested pomelos from Corsica, the Radiance Scrub contains natural fruit acids that immediately work to exfoliate the skin. Apply a thick layer to clean, dry skin and let its exfoliating granules slough away dead cells. A jam-like mask that's jam-packed with benefits. How could you possibly resist?
Soothing Mask - 75ml - €32
The Soothing Mask is enriched with freshly picked blackcurrants from the Ardèche and contains magnesium and calcium – minerals essential for the skin to function at its best. Apply a  thick layer to a clean, dry face and leave on for 5 minutes. The real blackcurrant seeds gently exfoliate and provide an instant refreshing and soothing sensation.
Purifying Mask - 75ml - €32
The Purifying Mask is made with freshly-cut, organic thyme from Provence. Apply a fine layer to clean, dry skin and leave on for 5 minutes. The mattifying, purée-like texture immediately absorbs excess sebum and gently exfoliates.
Now, onto those kissable lips!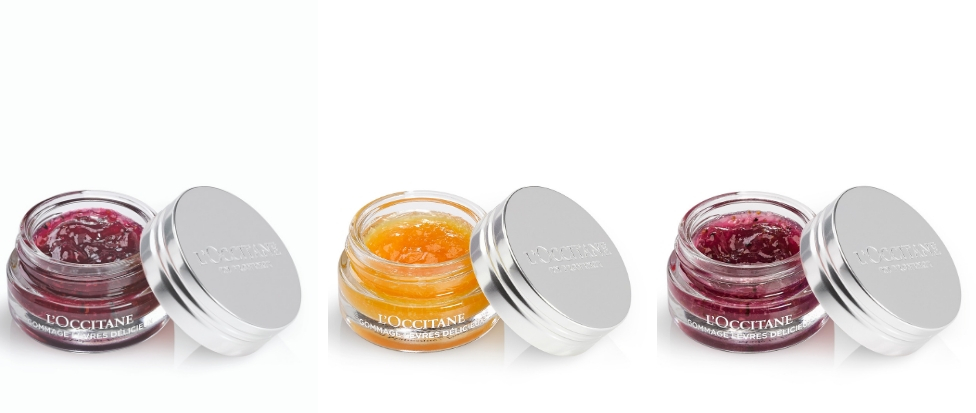 The new lip collection from L'Occitane is infused with fruits, vegetables and herbs from Provence and the Mediterranean Basin. The collection…
Advertised
Marmalade Kiss Delicious Lip Scrub - €16
The Marmalade Kiss Delicious Lip Scrub contains Vitamin E in a mouthwatering texture. Enriched with mandarin extract and carrot, pomelo and pomegranate oils, this gentle exfoliator leaves a sweet and delicious taste on the lips.
Raspberry Crush Delicious Lip Scrub - €16
Enriched with raspberry extract and carrot, pomelo and pomegranate oils, the Raspberry Crush Delicious Lip Scrub also treats your lips to the benefits of vitamin E.
Fabulous Fig Delicious Lip Scrub - €16
A fig extract lies at the heart of the Fabulous Fig Delicious Lip Scrub, which also contains vitamin E, along with carrot, pomelo and pomegranate oils. This gentle exfoliator reveals a delicious texture that leaves lips feeling smooth and tasting sweet!
Soften up!
Delicious Multi-Balm - €22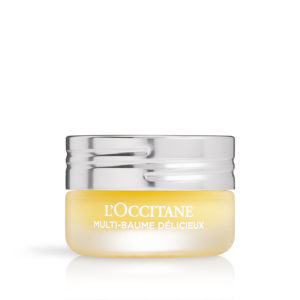 The 3-in-1 Delicious Multi-Balm can be used as a primer to prep the lips for the Fruity Lipstick, as a balm to soften the lips any time of the day, or as a rich mask to pamper the lips overnight.
Fruity Lip Perfector - €22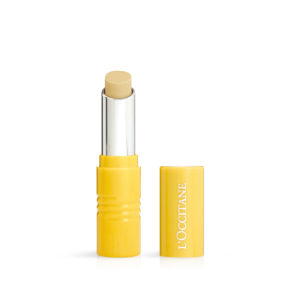 The Fruity Lip Perfector, which comes in a handy stick form, moisturises and adjusts to the pH of your lips to enhance their natural colour. Behind its sunny, bright yellow shade – which turns pink when it touches your lips – is an ultra-effective, 2-in-1 colour-revealing and plumping formula.
Delicious Tinted Balms - €22

Imagine sun-drenched, vitamin-rich fruits from Provence captured in treats for your lips… All four Delicious Tinted Balms boasts a creamy texture with an irresistible sunny scent. Try the sunny orange, Carrot Fizz, the hot coral Miss Grenadine, the pretty Pink Calisson or the soft purple tones of Gimme Mauve. All balms deliver hydration, to keep lips feeling exquisitely soft!
Dress up - time to get glam!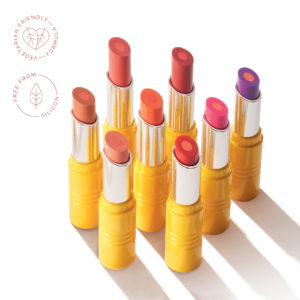 Advertised
Keep it fresh, light and subtle, make an impression, or turn up the colour with L'Occitane's new fruity lipstick range. From Nude Infusion to Flamingo Kiss, there is a shade to suit every style. Each fruity lipstick retails at €20.
So, there you have it! Food for your face. Will you be giving them a try? Go to the L'Occitane website for further details.