 I have a confused relationship with shoes, and investing therein. On the one hand, my brain says that shoes will always fit; that they will last forever unless worn day in, day out; that they can make the difference between a distinctly ordinary outfit and an extraordinary one. This all justifies spending inordinate amounts of money on pieces of moulded leather or suede.
But then I remember: my shoe size has gone up in the past year and a half (I am 27; I blame this all on the stone I put on when I gave up smoking); I have never owned a pair of shoes for longer than four years, owing to either over- or underwearing, necessitating, respectively, binning or donation; very few of my outfits are distinctly ordinary and when I need them not to be, I put on a big necklace.
And then there is, of course, the Big Fat Lie of Fashion: expensive shoes are not more comfortable. I bought a pair of Miu Miu's A/W 2011 booties - they are crippling. I invested in Stella McCartney's wedge court shoes (which I promptly lost in a house move, woe) - I couldn't walk more than three feet in them. I was the proud owner of a pair of Alexander Wang boots - I wore them in the office and had to wear flats for a week afterwards.
So what I'm saying is: spending a lot of money on shoes is, most often, not an investment. There are, of course, going to be the times you find a shoe that you just have to have - but for the other times, you'll most likely find a high-street dupe. Here are my pick of this season's hot numbers, along with the wallet-saving alternatives!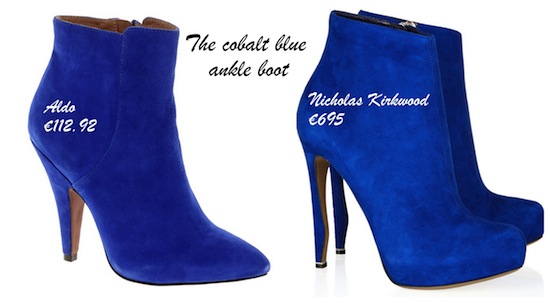 Advertised
Aldo's blue ankle boots (at Asos) are a steal at €112.92 - at least compared to the €695 you'll fork out for Nicholas Kirkwood's pair.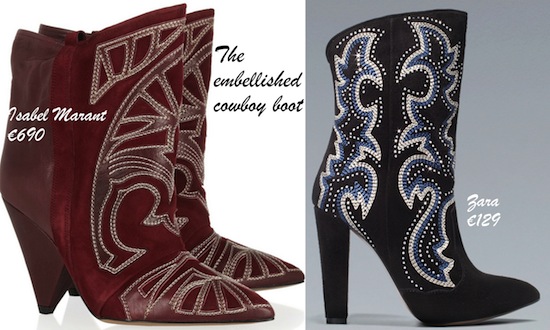 Isabel Marant's Berry suede and leather boots are this season's must-have, but at €690 being on-trend doesn't come cheap - check out Zara's dupe, for €129.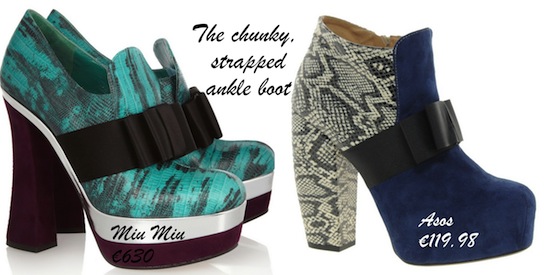 Miu Miu's bow-embellished snake-effect ankle boots are seriously standout, but if you don't have €630 to spare you can get the look for less with Asos's slightly toned-down version, at €119.98.
Advertised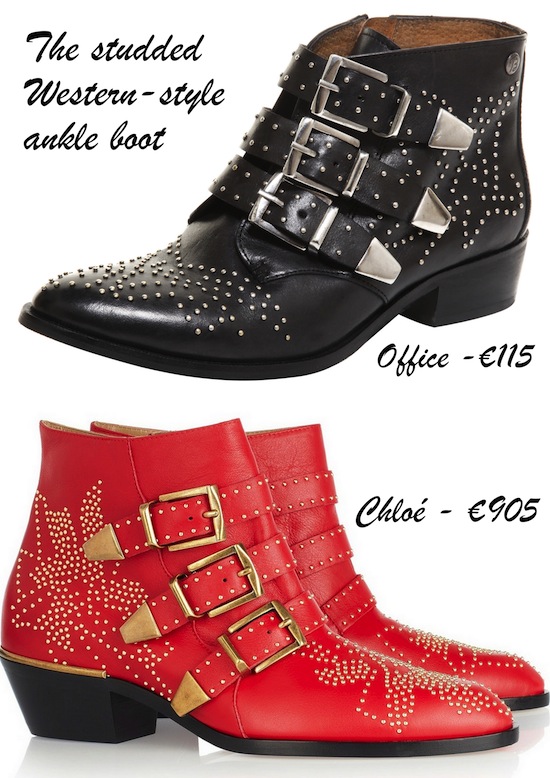 Chloé's Susanna has been a sell-out boot since it was launched in 2009 (and called the Susan). Even if you had the €905 to spend on their 2012 iteration, you couldn't, because they're also sold out - but Office's Nighthawk is as close as you'll get, and all without breaking the bank, at €115.