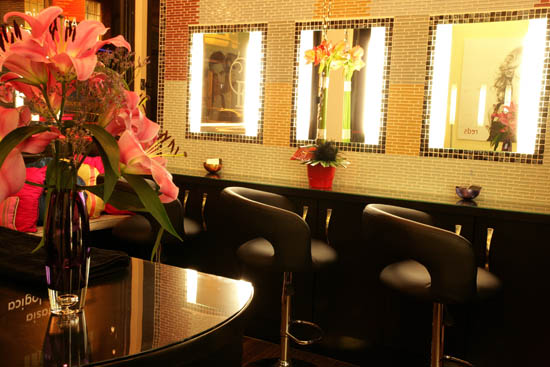 I mentioned last week that I'd taken a trip into Elysian Brows on Dawson street. Opened just before Christmas, it's dedicated to brows and eyes - though you can have facials, nails and makeup - and I went in for a bit of threading last week.
Resisting the temptation to not pluck for a week or so beforehand so that there'd be something to work with was bloody torture, and I was gently chided for my overplucking habit. I hoke, I pick, I piece flesh and cause scabs, all in my attempts to get out the tiniest of hairs.  That's caused a patch of rough skin below one brow and I have to stop: I'm like a plucking addict who's been sent to AA (BA?) - I'm trying to kick, but God, it's hard.
A brow shape and consultation at Elysian Brows costs €25, which is at the top of the price bracket for Dublin. You do get quite a lot of advice beforehand and an expert threading experience, plus the place is also the nicest, and most private venue I've been threaded in, which all helps justify the price.
Advertised
The ideal way for brows to be shaped was explained, then performed with waxed cotton thread, and any strays tidied up with tweezers. Brows were then lightly powdered with an Anastasia product. They look really good actually, a nice clean gradient and lots of hair left, and I can pay €15 for a tidy-up after two weeks growth, which is a bit easier on the purse.
One of the downsides of threading is that sometimes small hairs break off as opposed to coming right out with the thread - that's always been the case with any experience I've had and it was the same here. A couple of days afterwards I  did get tweezer-happy again and got out a few that were poking through, since then though, I've left well enough alone.  Would I go back? Damn right - and if you want an appointment, get dialling - word on the street is these guys are constantly booked solid.
Elysian Brows, 21 Dawson Street, Dublin 2, 01 678 8260; www.elysianbrows.ie