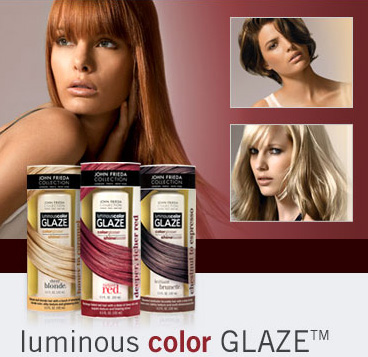 We love John Frieda here at Beaut.ie, mostly for his wonderous Frizz Ease range, but also for his lovely colour enhancing ranges for blondes, brunettes and redheads. Not to get too technical, this stuff actually works where other so-called colour enhancing ranges don't, because they've invested so much in technology to explore how light reflects off each individual hair depending on pigmentation levels, and as those levels differ across shades, that technology is tweaked to be as specific as it can be for each. And they're not just for dyed hair either - you get the same results if you're a natural blonde or if you're a colour treated blonde. Phew, basically, their colour ranges are GOOD!
One of the most recent additions to the Sheer Blonde, Brilliant Brunette and Radiant Red stable is a range of Luminous Colour Glazes . They're an at home product which mimic the sort of glossing treatment you'd get at a salon to pep up colour between dye jobs, or just to give hair an extra shine and gloss. And they're really really good!
I tried Chocolate to Espresso, as I have very dark hair, but you can get Luminous Colour Glazes in lots of shades, so there will be one to suit. It's a cinch to use - shampoo and condition as normal (ideally using the complimentary suite of products to get best results) and then apply the glaze. It's designed to use in-shower, so you can put it on, and then shave yer legs, or exfoliate or do anything that'll take the requisite 3 minutes. Wash it out, dry hair as normal and prepare to be wowed by sleek, slippy locks, bursting with shine and renewed colour.
Advertised
All that for about €11? Get thee to Boots NOW!