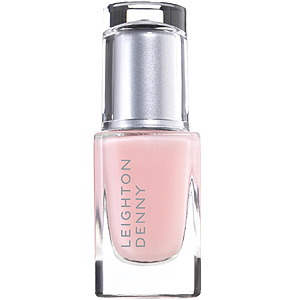 Yappin' about all things nail related yesterday reminded me that I haven't yet told y'all about my now well-used base coat from Leighton Denny. Called 'Under Cover', it first and foremost does what all good base coats should - provide the optimum suface for nail colour to extend wear-time and protect the natural nail from staining. In addition, though, 'Under Cover' contains calcium, panthenol, and Vitamin E to help strengthen nails and is chock-full of colour diffusers, which means that it (a) looks a lovely pale pink in the bottle, (b) evens tone, and (c) helps to mask existing discolouration.
As if all that brilliance wasn't enough, it also dries to a matt finish so that you can see exactly when your base coat is dry. No more gingerly feeling nails with a fingertip and (more often than not) leaving a dirty big ridge-y fingerprint when it turns out that actually, they're still wet. Huzzah!
Advertised
€16 from Real Life shops like Make Up Forever on Clarendon Street in Dublin, you can also buy Leighton Denny's stuff online from the likes of Beauty Devil, Facialworks, or QVC.