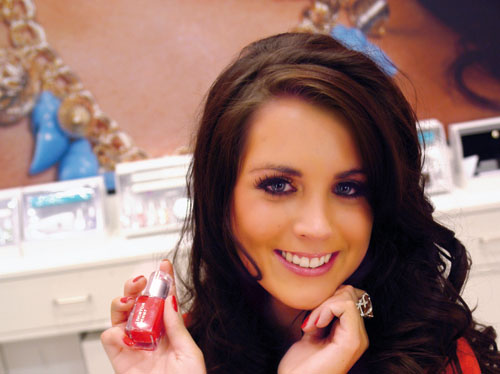 A few weeks ago, nail whiz and expert manicurist Pamela Laird, she of the Leighton Denny Nail Bar at House of Fraser in Dundrum (phew, that was a bit of a mouthful), answered some of your most pressing nail queries. Did you get your question answered in part one? If not, she's given us her final five solutions to your nail niggles here. Read on!
What is the best way to remove gel nails and get them back strong again? I've just taken mine off today and they're like paper!
Always, always, always have gel or acrylic nails removed by a professional. They know how to reduce the damage from the gel and can advise you then and there on what products to use to prevent this paper effect from happening.  However, in your case the damage is done and you will need to focus on building up the strength of your nails. In this case I recommend you use the Bio Build line which treats weak thin and fragile nails.  There are three products in the range:
BIO-BUILD TREATMENT SERUM
Harnesses BIO-BUILD's strengthening properties including Bio-Active Glass, to help refine and build the nail. Bio-Active Glass is known to encourage links between cells to help increase strength. It will help build the fragile nail and nourish the nail moon and cuticle area where new nail grows.
BIO-BUILD TREATMENT SHIELD
A clear, low gloss coat containing the BIO-BUILD active ingredient compound. The Shield bonds this to the nail creating an instant, protective layer for stronger, thicker nails. As a base coat it protects against staining or it can be worn alone as a treatment to thicken and give a further layer of protection to weak nails.

BIO-BUILD TREATMENT POLISH REMOVER
This rich gel formula is fortified with the BIO-BUILD Essential Oils and active ingredients. A fast acting remover and treatment in one, it won't dry the nail, cuticle or surrounding skin but moisturise and strengthen with the unique ingredients compound. Acetone Free, it can be used on natural or artificial nails.
All products can be used separately but for best results use together in a regime.

Any good strengtheners out there - and how often should I apply them?
Yes, there are some fantastic strengtheners on the market today. For specific application details always read the instructions before use.
Advertised
Leighton Denny Renovate is a great 'all rounder' and has been getting some rave reviews in the UK press – Sunday Times Style magazine and Grazia.  It won't be out here until the end of April but we expect it to be a huge hit here as well.
Would you apply coat after coat of strengthener or do you remove coat first and apply fresh coat on bare nail? Do strengtheners dry out nails? What ingredients in products should I look out for as they are drying?
No matter what product you are using the instructions need to be read, as each product is different. In terms of ingredients to look out for and possibly avoid - be wary of formaldehyde, as a lot of people have allergies and reactions to this ingredient.  Most strengtheners would require two coats, removing after 5-7 days.
What's the best way to keep your cuticles back? Using a product or with one of those orange sticks?
You should never push cuticles back without first applying a cuticle softener/remover. (Try Leighton Denny Remove & Rectify).  First apply the cuticle remover (again, making sure to read instructions) and if using an orange wood stick, ensure you cover the tip with cotton then just lift a piece of cotton with the tip of the stick and very gently ease back cuticles.
I have loads of ridges on my nails, is there anything apart from buffing to get a smooth look?  And when buffing how long should you do it for before you start doing damage?
Ridges are sometimes called 'nail wrinkles'. While buffing will certainly help to improve the appearance of the nails, this should only be done once every now and then. Only a couple of strokes should be used when buffing, a good buffer will do the work for you, so no pressure should be used.
A good nail oil will also make a big difference to the appearance of the nail, but only when used daily.
Advertised
The best thing to get you 'kick started' is a professional manicure, where you will get all the advice and instructions you need for a perfect home care regime.
All Leighton Denny treatments and products are available at the Leighton Denny Nail Bar in House of Fraser, Dundrum. Call 01 299 1429