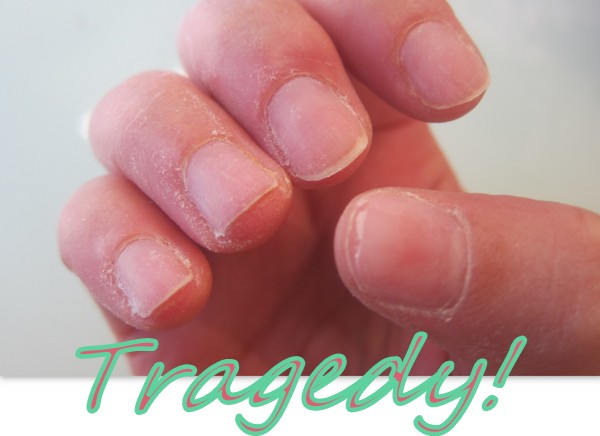 If a picture tells a thousand words, this one spins a really long and tragic tale about a girl who went for too many two week manicures and wrecked her nails in the process. If you're particularly sensitive it might even bring a tear or two to your eye -  it did to mine! Luckily our plucky heroine was also a beauty blogger with access to some of the best new hand and nail care products around, so there might just be a happy ending for her yet. Following Lynnie's advice for sorting out stressed out hands and nails, here are five fab products I've been putting through their paces.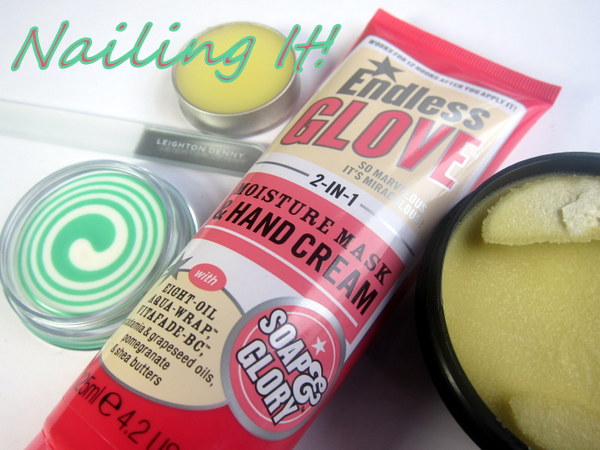 ONE
The name alone is reason enough to fall for Soap & Glory's Endless Glove, but it's also a really great hand cream slash moisture mask. Rich and nourishing, you can use this as a hand cream by day - enjoying the fruity scent while you're at it - or lash it on under cotton gloves for an intensive night treatment. Find it for €9 in Boots.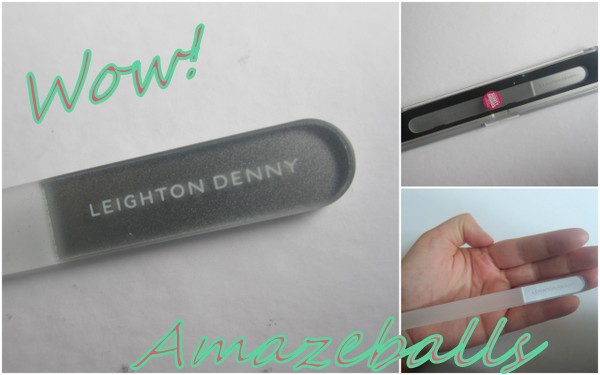 TWO
"This is absolutely amazing", said Rosemary as she handed me over this Leighton Denny crystal nail file - and as usual, she was absolutely right. It's been scooping up beauty awards and is loved by, well, just about everyone who's tried it because it blows all other nail files out of the water. It quickly smooths the nail and feels kinder than your traditional emery board. The really great news? It's available from the M&S Beauty Hall on Mary Street. It's €17 but comes with a 25 year guarantee - and it's BRILLIANT! Read our full review.
Advertised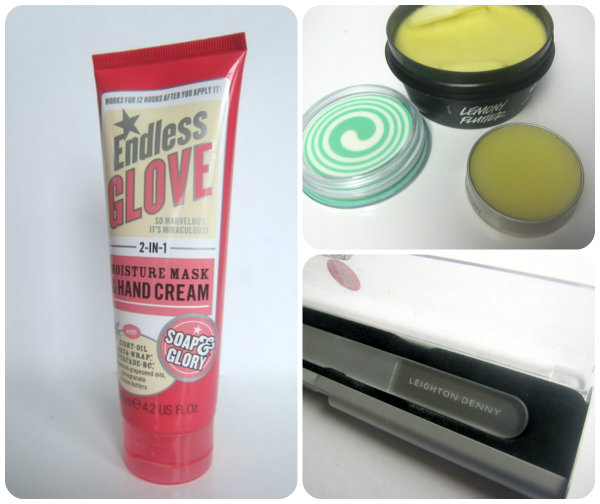 THREE
Sally Hansen's Salon Manicure Cuticle Eraser & Balm is a soothing and swirly balm that keeps ragged cuticles and hangnails in check while conditioning the nails.  It's €9.95 and good for on-the-go because it adds instant moisture without making your hands feel too oily.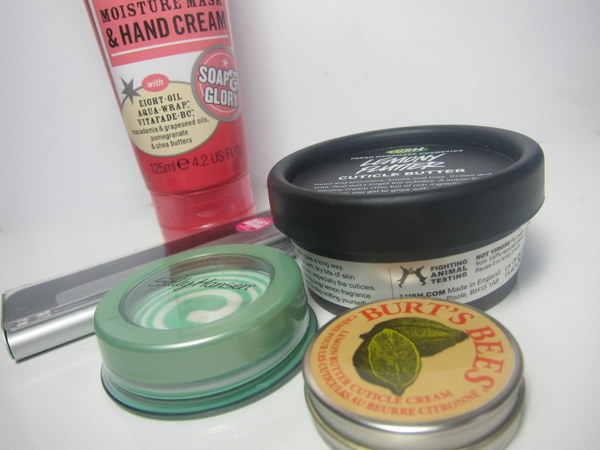 FOUR
If the last product looks good enough to eat, then Burt's Bees Lemon Butter Cuticle Cream definitely smells it. Fresh and zingy, it's scented with the lemon oil it's made with and also contains sweet almond oil, beeswax and cocoa butter. It absorbs quickly and is all natural, too - it's €7.95 for a 17g tin (mine is a mini version which came as part of a set).
FIVE
On the surface of it there's not much to distinguish Lush's Lemony Flutter from the Burt's Bees cream. This one smells sweeter but the real difference is in the texture - Lemony Flutter is richer and thicker and you need only a teeny tiny bit or you'll be left rubbing the remainder into your hands and arms for ages. It definitely feels more like a creamy butter than a waxy balm, so I like to use this one at night and keep the Burts Bees one in my handbag for during the day. It's €9.45 for 50g  so you get a lot more for your money with this baby.
Advertised
If you've tried any of these, do share how you got on in the comments. Do you have any other suggestions for nursing my poor raggedy cuticles and nails back to health?