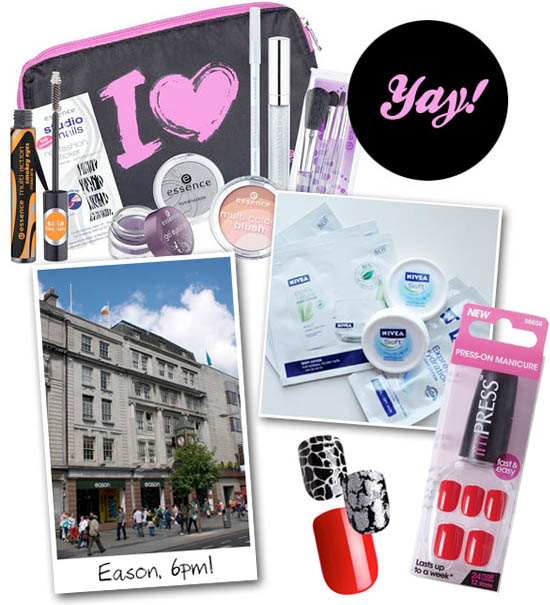 This is set to be an absolute blast.  Why?  I'll tell you why!
We'll be in the mecca of Irish book shops - Eason in O'Connell St - and we'll be signing our hearts out.  We've got books - lots and lots of Gorgeous to Gos all awaitin to be signed.
But wait - there's more!  We're bringing along a mini makeover team:
top makeup artists from Shiseido to beautify you
a nail tech from Impress to instantly transform your talons
our handsome camera man to document the transformations
BRILLIANT Goody Bags!  Stuffed to the brim with products  - some of them are pictured but there's more than that (be in the first 50 to buy a book and get it signed and you're all set to get a bag)
Where: Eason O'Connell St Dublin
Advertised
When: Thurs Nov 24th @6pm
Who's invited: Everyone!  This will be our last book event of 2011 - please come and join us, get your nails and eyes done and pick up your copy of Gorgeous To Go.
Will we see you there?  Say yes!