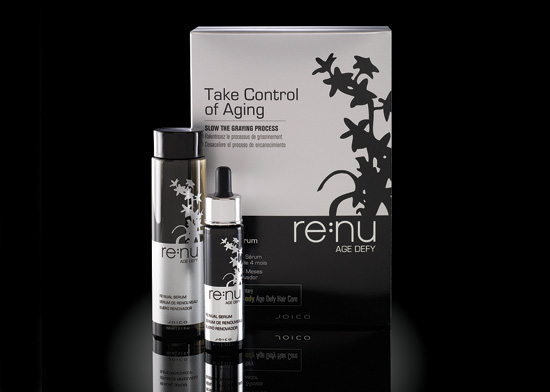 Everywhere I look recently I'm confronted by grey hair. In the mirror, in my email, in products and releases I'm sent, it's bloody everywhere. And now Unilever have revealed the shock horreur reasons as to why women go grey. Brace yourselves, ladies. It's not through stress or environmental factors. No, it's genetic.
Oh. I thought we already knew that?
Apparently not. The company studied 200 twins aged between 59 and 81 and found that that there was little difference between the greyness of identical twin sisters, and that 90% of any difference which did exist between twins was down to genetic factors.
"Indeed," says Dr David Gunn, senior scientist at Unilever's R&D laboratories, "the research indicates that irrespective of how stressful a woman's life is, there are greater forces at play which are more likely to cause her hair to grey."
Grand so, Dave. It's enough to have you reaching for the dye and conveniently, I've been wondering how to squish Joico's new AGE DEFY Re:nual Serum onto the blog. Here's my chance!
Advertised
Speaketh the brand:
This first-of-its kind formula actually reverses the greying process, the number one sign of aging. It inhibits the development of new greys as it creates an optimal environment for the growth of healthier, shinier, more youthful hair.
With initial use of Re:nual Serum, you can expect stronger, healthier-feeling hair in two-to-six weeks and fewer new grey hairs in two-to-four months.  An actual reduction in grey hair and a gradual restoration of natural hair colour can occur after six months.
Right. BUT HOW? Ok, this isn't a dye, it's a preventative serum that works in conjunction with other care products (shampoo and the like) to lessen the rate of grey hair growth. Developed in conjunction with Shiseido, this here is new technology that has other anti-ageing benefits such as the ability to show improvements in the condition of aged hair.
A four-month supply of the Renual Serum comprises costs about €119, and you'll bag it at Joico salons nationwide - for one near you, call 045 856 487.