 Viva Adonis is the brain child of two of our favourite bloggers Dee and Sinead.  They love all things pretty and witty and are as addicted to blogging as our good selves: for these reasons we say head over and give them an auld read!  Today they're giving us their top tips for cheering up this dingy old January without breaking the bank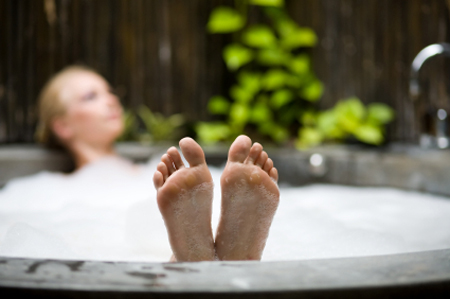 Jog on, January!  Ways to Beat the January Blues and Make 2012 Your Best Year Yet
 It's January. It's minging outside. On top of this, we're all broke after the indulgences that Christmas brought. The two of us decided to come up with a few quick, easy and cheap ideas that will help perk you up and chase the blues away!
A Nice Bath
There's literally nothing like a long, hot soak after a wretched day of trekking to and from work, school or college in the pouring rain and icy cold wind. Pop open a bottle of wine, grab a book, light some candles and just relax!   Some of our current favourite bath products include the new LUSH Rose Jam Bubbleroon for silky-soft skin and rose-scented bubbles, LUSH French Kiss Bubble Bar for a relaxing, lavender-laden soak (especially for good before bedtime-you'll sleep like a baby!) and old school bath salts like those from Dead Sea Spa Magik.
DIY Pamper
One night a week, take an hour out for yourself and have a good ole fashioned pamper.  It can be as simple as slapping on a face mask (we love Neutrogena 2 in 1 Wash/Mask) and plucking your eyebrows or doing a mani-pedi. Combine your DIY pamper with a relaxing bath and body scrub and finish up with a light layer of fake tan once dry. Sometimes there's nothing like being bronzed and gorgeous to perk you up on a dark January morning, even for the naysayers among us, Sinéad included! Our very favourite false tanner is an Irish hero product, Rockstar Tan Access All Areas.
A Decent Night's Sleep
 If sleeping was an Olympic Sport, we'd both definitely be in the running for the gold!  Set yourself up with some cheap-as-chips natural sleep aids to take you to the Land of Nod.   Pop a sprig of fresh lavender under your pillow or sprinkle a few drops of lavender essential oil on the corners to infuse your room and relax your mind.  Avon's Sleeptherapy Goodnight Pillow Mist is a truly brilliant breathe-in-and-relax product for the occasional insomniacs among us.
Treat Yourself
Sometimes there is nothing for it but to indulge in a bit of retail therapy to beat the January Blues. It doesn't have to be anything extravagant! Some of our favourite good quality products that won't break the bank include Collection 2000 Lasting Perfection Concealer, Essence Gel Eyeliner, Angelica Nail Polish, Rimmel Kate Moss Lipsticks and Sally Hansen Complete Salon Manicure Nail Polishes.
Do Some Good
We live in a pretty self-centred, materialistic world, and without sounding too clichéd, it can be all too easy to forget about the less fortunate. Sometimes all it takes to make you feel good is to make someone else feel good. It's a win-win.   It can be as simple as smiling at someone who looks downtrodden or helping an elderly or blind person cross the road.
Advertised
You could also volunteer with a charity or donate something. Our own personal picks would be Pieta House, the Dublin Rape Crisis Centre, the Dublin Simon Community and the ISPCC. Even the smallest of donations to a charity that is local to you or close to your heart will definitely be appreciated this month.
 Divest Thineself of Thine Clutter
Grab a bin bag, go into your room and purge the place of anything you haven't worn, used or thought of in the last 12 months. You'll feel a whole lot better knowing that you can open your wardrobes without the risk of being consumed by an avalanche of clothes and a clear room can also contribute to a clear mind.  If you're wily, you can probably couple The Great January Clear Out with making a few quid by booking a rail at The Closet Clear-Out on the 28th of this month.
So, what are you waiting for? Chill out, treat yourself and banish the January Blues for another year!
Love,
D&S x
Thank you ladies!  If I can do even a couple of these things it will be a vast improvement on the disorganised chaos I currently live in!  Head to Viva Adonis to get more tips!
Advertised
Get Beaut.ie Delivered
Stay updated with Beaut.ie newsletters full of the latest happenings at Beaut.ie as well as great offers and things we think you might find interesting .