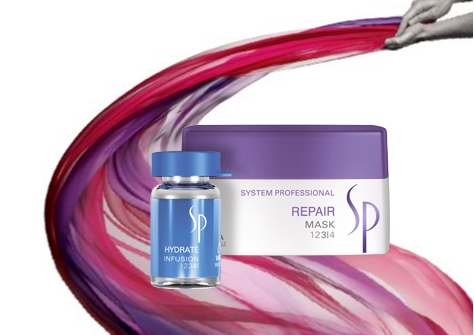 Prescriptives may be gone but that doesn't mean that bespoke beauty has gone away with it. No indeed, because before Christmas I took myself into Foundation (round the corner from the Long Hall and Dunnes HQ) to have a very exciting-sounding and so-brand-new-it's-smokin'-hot therapy. Foundation was the only Irish salon to trial it pre-launch, so I felt pretty darn special, but it's rolling out nationwide now, so keep an eye out at your local Wella salon.
So, what is it? It's SP Hair Alchemy, and it's going to offer a real point of difference to anyone who wants quick, hard-working results from their trip to the salon. Add an SP Alchemy treatment on to your cut or blowdry from €20, and you really do get to choose what happens to your hair. That's thanks to its combination of new infusions and masques, which work together to tackle two issues at a time. So forget treatments of old where you could just have a shot of shine or something to sleek, because this allows you to have hydration and volume, or deep repair and smoothness. You could also choose colour care and shine or really, any combination that'll help you and your follicular foibles.
Not bad for a very affordable spend, I reckon, and the fact you can have an intensive infusion (a sciency-style vial of goodness to variously smooth, hydrate, repair, volumise or colour protect) along with a nourishing mask makes the treatment effective and also pampering. Add it to a blowdry for a night out and you'd be quids in - I had volume and sleekness as both of those would be bugbears for me, with frizzy ends and flat roots. You'll see benefits for three washes and you're recommended to use the after-care products to help see a continued improvement.
Advertised
Ah, the products. I have always found the SP and Wella ranges hugely confusing and I can't have been alone: in tandem with SP Hair Alchemy, the SP line has been repackaged and now finally makes sense. Colour-coded into Smoothen, Hydrate, Repair, Volumize, Colour Save, Shine Define, Clear Scalp and Balance, the ranges are easy to navigate and there are only three-to-four products within each, so it's not baffling at all. In addition, prices are really competitive for salon haircare: shampoos are around €17.50, conditioners €19.50 and masques come in at €21.99.
Foundation, 18 Upper Stephen's Street, Dublin 8, 01 478 1222; www.foundationhair.com