 Along with perfecting my eyebrows and growing back my nails, dealing with my dry, frizzy hair is my life's work. Here's what I'm pinning my hopes on lately.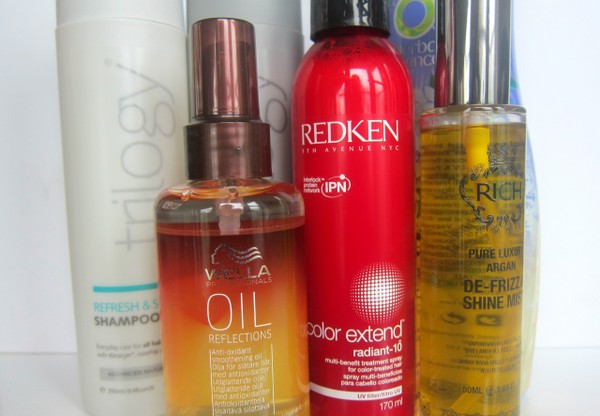 ONE:  When my beloved Shu Uemura ran out I turned to Moroccanoil but, after a few weeks, realised it wasn't quite moisturising enough for my parched ol' gruaig. Enter Wella Oil Reflections, the latest hair oil on the block – it's a lovely, lightweight product that doesn't wear my hair down but still imparts plenty of moisture and shine. It also smells really fab – rich, warm and sweet, like caramelised fruit. €17.99's the damage, making it good value too -  especially for a salon product – so this is well on its way to being my new favourite hair oil. This week.
TWO: It's a sad fact of life that natural products don't always perform as well as their chemical-laden counterparts. However, Trilogy is the exception. We love their rosehip oil and now their new haircare range provides a real option for those of you who want a natural product that really does the business. The secret is keracyn, a new natural active extracted from protein-rich artichokes. You'll find these in Arnotts, pharmacies or health stores nationwide at €15.95 a bottle.
Advertised
THREE: Redken Color Extend Radiant-10 was recommended by my hairdresser to give me a bit more time between appointments. I think she was embarrassed to have a client going around looking like a badger for a week or two. I'm not 100% convinced yet of its colour extending ways but I do know it softens my hair, adds moisture and helps fight frizz and that's good enough for me. It's around the €20 mark.
FOUR: To mark the 40th anniversary of the brand, Herbal Essences thought up this limited edition, fairytale inspired birthday range.  I'm really enjoying the new Herbally Ever After shampoo and conditioner – extracts of Royal Jasmine and Silky Sea Palm make my hair feel soft and smell great, and I like the fancy anniversary bottle, too – as well as the rather bargainous price of €5.25 for 400ml. Grab it while you can.
FIVE: Finally, I had to laugh when I saw Aisling's post – you know a product's a good 'un when it appears twice in one week on the site! You can check out her full review but suffice to say my hair feels just the same as hers when it comes to silicones – it's love all the way. I know some of you have had trouble finding Rich products so good news – as well as chemists, www.beautyfeatures.ie are now carrying the range.
What about you - any tips for taming the mane? Leave 'em in the comments!