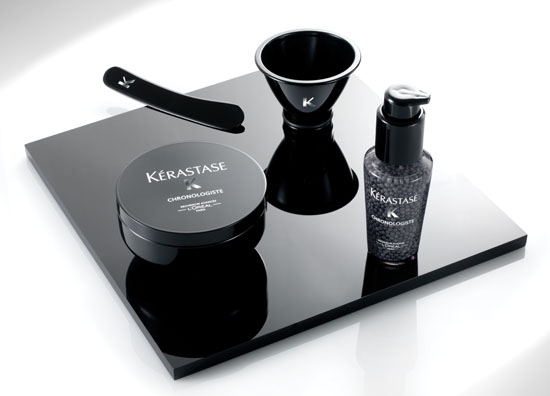 Being a sucker for anything fancy, shiny and expensive I did an "oooOOOooh" when this pic popped into my inbox. It's for Kerastase's new Chronologiste hair ritual, which you can have as a treatment in salon or buy as a take-home product. The salon version is a higher-strength version of a mix-it-up-yerself hair masque that's designed specifically for 'problem hair'.
Me, me! I have problem hair, miss! Honest I do!
It's a veritable pain in the Swiss, so I wonder will Chronologiste's mix of a "wide variety of active ingredients, at significantly high concentration levels," fix my barnet? They say it's an all-encompassing treatment for every hair type, which makes use of a two-step process. Pearls Chronologiste, bottom right, are fancily named 'mimetic-caviar' - or to you and me, a posh name for nutrient spheres that're suspended in enriched Pacific sea water, rich in trace elements and minerals. The balls, sorry, caviar, contain fancy things like squalane and vitamins A and E. So that's part one.
Part two of this fancy shenanigans is Creme Chronologiste. For deep nourishment, it contains tons of goodies like gluco-lipids, ceramides, vitamin e and synthetics like bisabolol (no, me either), silicone (oh I love you) and cationic derivatives (I first read this as catatonic derivatives, again, no clue).
Neither is for solo use, instead, you mix the pair together in that sweet-looking little bowl which has calibrations inside to help you get the proportions correct.
Advertised
So, it's a bit like making up epoxy resin (with er, hopefully not the same result) and the net effect after ten minutes is gruaig that's nourished, supple, soft and shiny; hair is stronger and feels renewed; UV anti-oxidant protection safe-guards against external aggressors; condition is improved which can prolong colour, and scalp is soothed and hydrated. Phew.
Now to the money shot - literally. The price.
In-salon, you'll pay an extra €40 for a 15-minute treatment, and that'll include an intense flat hand head massage. To take home, this baby costs €95. Steep - but if it does what it says, well, I think I could be turned. I am presuming you're gonna get more than one application from the two products, so it could potentially be a good bridal buy for getting hair into great nick before your big day.
Available from April, you'll find this at selected Kerastase outlets.