 I loved these products.  I knew I was going to love them - because they're jam packed with silicones and my hair just soaks up sillicones, sings hurrah at the sight of them and behaves itself.  Well, behaves itself a bit better than usual.
Without them I look like a backcombed poodle - honest.
Forget all this Argan Oil name rubbish, it's just marketing at this stage.  Everyone and their cousin has jumped on the Argan Oil bandwagon with gay abandon after the success of Moroccan Oil.  Take any Argan Oil claims with a large pinch of salt.
But why should we care?  Well it's a bit mean of brands to sell a product and call it "Argan" when it actually has very little of this ingredient in it.  It's kind of sharp marketing. I've discussed this before in relation to Avon (read Avon Moroccan Argan Oil has feck all Argan in it).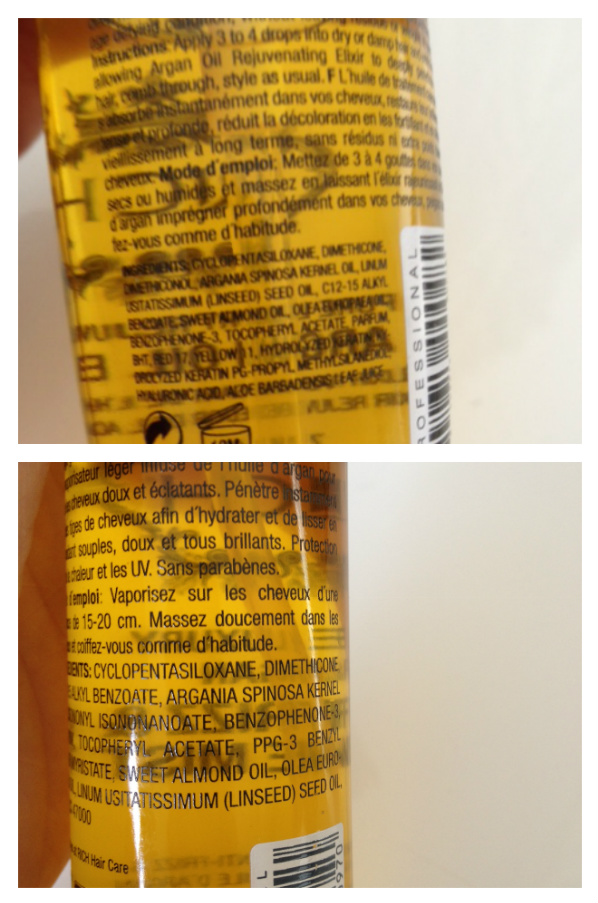 Advertised
These two Rich products (€9.95) are for damaged, curly and coloured hair.  UV filters protect against environmental damage which is great - if your hair is dry and damaged you need every bit of help you can get.
Smooth a few drops of the Elixer through wet hair to make blowdrying much easier and help hair to hold its shape.  Even if you're not blowdrying put some of this serum through your hair to sleekify naturally.
The Defrizz & Shine Mist (strong smell of vanilla) is good on dry ends - stay far away from this one if you've got oily hair and use it sparingly.  It works well on hair that's as dry as the Sahara and can add a welcome bit of moisture to frazzled ends.
Overall I'm really liking these (despite my Argan Oil gripes).
Have you tried any hair care from Rich - got any tips for us?