 Max Factor is having a good run with foundation launches lately. And this one is promising a lot. A whole lot...
We've been wearing Max Factor's last foundation release, the Lasting Performance Touch-Proof foundation practically every day as a cheaper alternative to Double Wear. It's a full coverage, doesn't budge type foundation and pretty much the opposite idea of the new Healthy Skin Harmony foundation.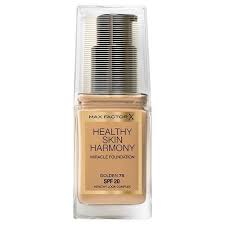 Max Factor Healthy Skin Harmony Foundation €15.99
Max Factor has been listening to women around the world when it comes to finding the right foundation. That's where the Lasting Performance came from; women wanted a full-coverage, long-lasting foundation and that's what they got. Now, this new formula is 'intelligent'.
Max Factor has joined the 'better for skin than no makeup' brigade. That's their actual tagline for this new foundation, but it's hardly a new exclamation. The claim has been BareMinerals' business for years, and many other cosmetic companies are now combining skincare with makeup. It's not a bad thing. How many of you had parents at you as a teenager when they caught you going out with a full face of foundation. "That will ruin your skin", they'd say. Well, teenagers of 2017, if you're going to wear foundation, maybe try this one, and show your parents the ad on YouTube if they try to get you to wash it off.
Advertised
It is a massive claim from a big cosmetic company, though. Can something mass-produced really be better for your skin than nothing at all? (Maybe if you haven't washed your face for a week and don't bother putting on SPF ever.)
Well, this has an SPF 20 for suncare protection so if you are a suncare skipper, this is a plus. It apparently has 'Vitamins' too, so... that's good, I guess. Other features it claims to offer is24-hour hydration, oil absorbers, and other 'smart ingredients' that 'adapts to your skin needs throughout the day.'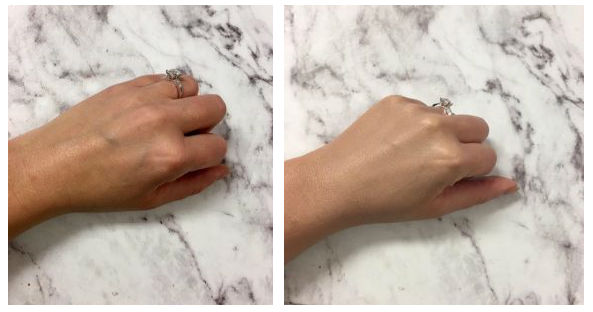 Before / After
We tried it and found that it gave a semi-matte finish. The coverage is medium but buildable. The texture is far heavier than we thought it would be but it glides on very easily and feels more light-weight than it initially looks. We liked the finish - our oily skin finally looked rather 'dewy' but not greasy, but we needed to powder up later in the day. If you have dry or dehydrated skin, it could settle in pores and lines, so make sure to prep the skin carefully before using it.
The foundation comes in 16 shades and has a great variety of warm, neutral and cool tones, so there is really a colour for every skin tone. However, it does oxidise, so if you're torn between two shades, go for the lighter.
Advertised
We were happy with the staying power of the foundation, and after a few layers, we liked the finish. If you have blemish-free skin, one light layer would probably be enough. If you prefer full coverage, you'll have to build it up. But, it won't look full-coverage, which is the aim of the game. It's a good start, Max Factor. And keep those foundation innovations coming.