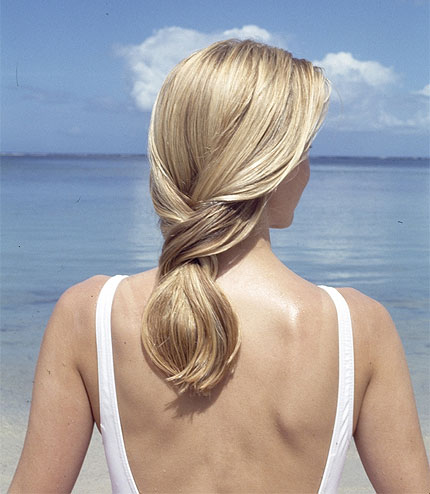 It might not seem as obvious as the need to protect your skin from the sun, but exposure to the sun (much like exposure to any heat source) can leave hair dry, dull and brittle and cause colour to fade. So while you're diligently applying the sunscreen this summer, make sure to try out the following tips to look after your locks too:
Wear a hat
Seems obvious, yes, but particularly if you're sitting out in the sun for prolonged periods, wearing a hat will protect your tresses and if the brim is wide enough, you get the bonus factor of protecting your face and neck from sun damage too. If hats aren't your thing, consider tying a silk scarf over your hair as an alternative (a great dual-fix if you're having a bad hair day).
Condition in advance
Conditioner isn't only something to be used after exposure to the sun - try applying it before you head out into the sun to prevent damage before it occurs. Wet your hair and comb conditioner through (don't rinse it out) before heading to the beach or pool. The product will act as deep conditioning treatment for your hair and also helps to protect it from sun damage. The hair will also be prevented from absorbing chlorinated or salt water, which can lead to further drying effects, particularly when combined with the sun.
Advertised
Tie it up
Twist your hair into a messy bun or plait it and pin it up. The less the surface of your hair is exposed to the sun, the less likely it is that it will be damaged (and this is also a great way of dealing with your hair if you've conditioned it in advance).
Look for haircare with UV protection
Many brands offer haircare products with built-in protection from UV rays. Several lines of hair care products have SPF and other ingredients to protect your hair. Try Aveda's Sun Care Protective Hair Veil, Soleil Micro-Voile Protecteur from Kerastase or Phytologie's Phytoplage Protective Sun Veil. Also take care to avoid hair products containing alcohol, which can dry your hair and add to the drying effects of the sun.
Don't forget your scalp!
There's nothing more irritating than letting the parting in your hair burn and then having to deal with the itchy, flaky mess as it peels. If you can, tie your hair back so there is no parting, but if not, try applying sunscreen to the scalp where it is exposed with a cotton bud.