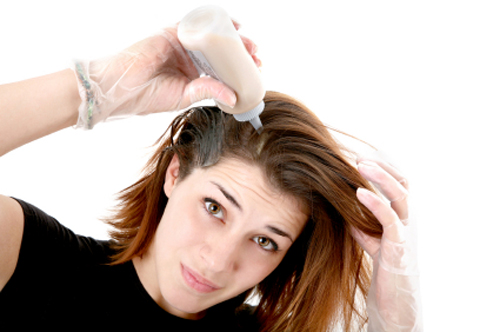 We're firmly in the throes of a full-blown recession right now, and last week's budget just hammered that fact even further home.
We need cheapo beauty solutions, people, and fast. If you can get it right, home hair colour is one of the areas you can save really significant amounts of cash, and last week Aphrodite told you about Garnier's new Herbashine, an ammonia-free dye. I also recently wrote about Clairol's latest launch, Perfect 10, a part of their Nice n' Easy line - and there are many more options out there.
But. Er - what's meant for what? And how do you know what sort of dye to choose? Right - lets break it down. There are a few types of home hair colourant, and they're basically differentiated by the level of penetration of colour into the hair shaft. Starting from the top down, they are as follows:
PERMANENT
Permanent hair colour contains peroxide and ammonia and will firstly lighten and then add colour back to your hair and effectively cover greys. For best results, you should stick to a new tone that's within two shades of your real hair colour. While permanent colour can fade through UV exposure and washing with harsh products, it is what it says it is - permanent. So It'll stay the same for as long as the hair exists on your head, meaning mistakes with this sort of dye are the hardest to rectify, and it also needs work to keep roots in check once they start to show. You will need to use special colour-care shampoo and conditioner afterwards to keep hair looking great, too.
BEST FOR: darker haired gals looking to go lighter, achieving highlights, those with a lot of grey to cover, and ladies who are committed to a lot of maintenance.
BUY: L'Oreal Feria or Clairol Nice 'n Easy Perfect 10
TONE-ON-TONE
Advertised
Tone-on-tone or demi-permanent dyes come between the permanent and semi-permanent spectrum, and use low doses of peroxide to help colour soak into the hair shaft. But unlike permanent colour, the benefit is that they will wash out in about 12-18 shampoos, plus they're a lot kinder to hair. So you can have the look of a new hair shade, without the hassle of permanent maintenance, because once it's washed out, you're back to your normal gruaig. Keep the colour looking great with the right care products, and you can expect to see 50% of greys covered with this method.
BEST FOR: Dark haired girls looking to cover the first signs of grey, and those with mousy brown or dark blonde hair who want a vibrant, brighter-looking mane. What tone-on-tone can't do is provide highlights, so if this is what you're after, you'll need to use permanent colour.
BUY: Garnier Herbashine
SEMI-PERMANENT
Using a process that coats the outer shaft of the hair and dyes the top layer of the hair cuticle, semi-permanent colour gives results for four to six weeks. Great for trying out a colour for size before you go for the full-on permanent effect, it will also cover greys and can help you to go darker, but not lighter, as it contains no bleach. Downside? It can come off on clothes, bedsheets, towels - you name it. Stargazer in Flamingo Pink (applied over previously bleached-to-the-maxXx hair) was my colour of choice as a nipper, and it's typical of these sort of products.
BEST FOR: commitment-phobes and pale-haired girls looking to add a bit of temporary richness to their hair. It will also add gloss and shine to any hair colour.
BUY: Garnier Movida or Clairol Glints
WASH-IN WASH-OUT
These sort of products are great if you're a committment phobe or just want a bit of fashion colour without resorting to the whole bleaching and colouring shebang, which of course damages hair. The downside of these fellas is they're not that apparent on darker hair and they won't have any form of lightening effect. Typically they come in a sachet or as a mousse.
BEST FOR: only good for use on hair that's not previously colour treated, you'll get a nasty shock if you put something like this over bleached or highlighted hair.
BUY: Wella Shaders and Toners or Alberto Vo5 Colour Mousse
COLOUR GLAZES
Not dyes as such, but glazes and colour-care shampoos are not to be overlooked in the whole DIY dyeing scheme of things, as they can ensure you keep your colour for longer. Nicky Clarke and John Frieda's ranges are both good and well priced, and pro ranges like Kerastase, Wella and Schwarzkopf all do similar products too. I particularly like John Frieda's Luminous Colour Glazes, which you use post-shampoo and conditioner for a shot of shine and to enhance your natural colour or prolong a dye job.
Advertised
DYEING TIPS
Wear your oldest, crappiest clothes
Use towels you're not going to cry about if they get ruined. Hint - they probably will get ruined
Watch bathroom floors and walls as this stuff stains and is incredibly hard to get out. The big blob of brown dye in the middle of my other-wise pristine white bathtub is testament to that
Put a layer of Vaseline on your hairline and ears - nothing screams 'hello, I just dyed my own hair, yes', like a bright red forehead
Draft in a friend to help - pretty much essential for home highlighting, as they can do the back of your head and any awkward spots, and you can return the favour
If you hate the colour, immediately wash it out with washing up liquid or similar - the detergents in it can help to strip the dye