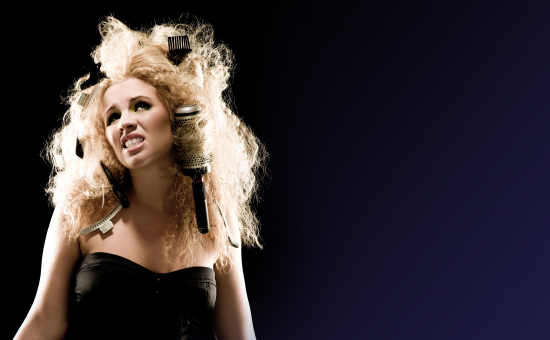 As the un-proud owner of God-damnit annoying hair that's prone to limpness at the crown and triangle-head at the base, I've learned a thing or two about how to keep it under control over the years. While I have fine, relatively straight hair, I also have a hell of a lot of it, and an abundance of frizz-prone fine stuff is a particularly irritating hair combo.
For a long time my one and only approach was to keep it tied up, and that way I didn't have to think about it too much, save for the occasional time when I'd GHD it into submission and leave it down. Obviously that's no way to live your life, so I began to experiment with products, treatments and cuts. Like a lot of things in life, my hair is an endless learning process, but so far, here are my golden rules:
Keep it at a manageable length. Sorry gals, but unless you're willing to put in a lot of daily work, long locks are a nightmare with this hair type, and repeat after me, it will NEVER ever be that sort of flippy, shiny Myleene Klass hair. Sorry, but it won't. The length I've arrived at that suits me is about an inch or so above my shoulders. Letting it get longer results in ratty, frizzy ends, and zero volume at the crown. Most of us need some volume up there, it's a fact
Never ever ever ever ever allow a razor to go near it. While it'll immediately take out volume at the ends, all this does is thin down already fine hair, leaving it even more prone to frizz and misbehaviour. Head to the hairdressers armed with garlic, holy water and a silver-tipped stake if necesary. The best thing to ask your stylist for is longer layers and get him or her to shape in the ends of your hair so it won't triangle out
Get into a routine of using good de-frizzing care products like Redken's Sleek and Smooth or Sebastian's Hydre range. Kerastase Bain Oleo Relax is also good. A weekly masque can also help - I go for really nourishing ones like Bumble & bumble's Creme de Coco masque or Realhair's eek-ingly expensive one. For styling, John Frieda's Frizz Ease line is also a boon for this sort of gruaig, because it contains oodles and oodles of lovely silicone, which frizzy hair hates, as it beats it into submission. You'll love it, though!
Night serum or lotion is a fantastic aid for frizz, and I will not be without my bottle of Kerastase Noctogenist Nuit - I don't know how it does it, exactly, but tame frizz and crunchy ends it does. Brilliant stuff.
As mentioned above, volume at the roots is a bit of an essential to 'balance' you out. I tend not to go the back-combing route, because I think it just stresses hair, especially if you're doing it daily. Instead, my approach is usually to use a little dry shampoo or a dry styler like Aveda's Pure Abundance potion, right at the roots. Avoid the ends - you want to keep them as hydrated as possible.
Still acting the maggot? I use Shu Uemura's lovely and sleeking Silk Oil Camellia Smoothing Fluid - a couple of drops mixed in the palms of my hand and smoothed through ends always sorts the finger-in-the-plug-socket effect.
Advertised
Anyone else got any tips for taming frizz-prone tresses? Leave us a comment and let us know!