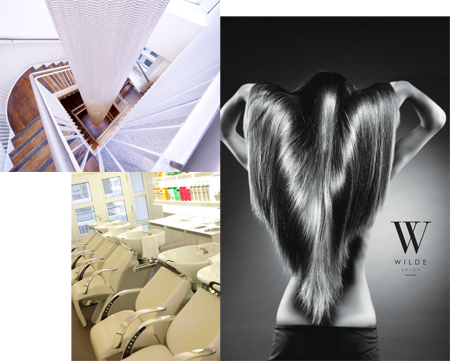 Dublin's latest hairdressing experience is Wilde, a salon in the heart of Dublin 4. Formerly an estate agency - oh the irony - the building, located right beside yum foodie store Donnybrook Fair, is three stories of hair fabulosity. From the ground floor blow out bar which can accommodate up to eight pals at a time, to the state-of-the-art L'Oreal colour room where big-screen computer wizardry allows you to see your shade before you commit, to the styling and technical areas, this place is airy, spacious and relaxing. A palette of cream paint and dark wood is punctuated with sleek mirrors, loads of light and high-tech touches like reclining massage chairs in the ritual room, where hair is washed, massaged and treatments are applied. There's also a secluded wig fitting room, a nice touch.
I went in for an essential pre-Christmas blow dry with Creative Director, Hughie. Fresh from 12 years in Australia, he's worked on stars like Delta Goodrem, Kelly Rowland and Jemma Kidd, so I reckoned I was probably going to be in good hands. As a L'Oreal salon, Wilde use Kerastase so a quick scrutiny revealed I should be using the Oleo Relax range - fine by me as that's one I'd regularly plump for. A head massage set me up nicely for the main action. I wanted a bit of volume in there, so Hughie used a spritz of Kerastase Resistance Volumactive Expansion Spray and some really big rollers to get lift that'd hold.
Fear not - I didn't come out looking like a mad wan. Hair was nicely bouncy and not stuck flat to my head  - my pet hate with a bad blow dry. Unfortunately I had to step outside into mental wind and rain, which immediately whooshed my gruaig every which way, leaving it looking a bit less fabulous than it had five minutes previously - it recovered well once I got it - and myself - home and did a bit of gentle brushing to put it back into place, though.
Advertised
If you live or work in this part of the city, this place is a local gem. But it's also a gem worth keeping in mind no matter where you lay your hat. Blow drys in the blow out bar start at €28 for short hair and €35 for long - very competitive. You can go for a variety of options too: sleek, bounce, wave, pin-up, tie-back and curly are all on the menu.
Check out Wilde at 93 Morehampton Road, Donnybrook, Dublin 4. They're online at  wildeabouthair.ie, or get them on the phone on 01 6689342