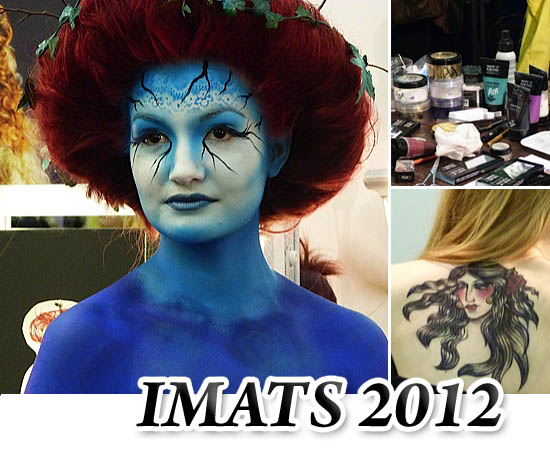 On Sunday morning, I felt a bit like the Shackleton of the beauty world as I prepared to head off to IMATS (the International Make-Up Artist Trade Show.) The steady overnight snowfall in London had provided some excellent opportunities to draw snow penises on the way home from the cinema on Saturday evening, but those six inches (OF SNOW, dirtbirds) and temperatures that were determined to hover around zero meant that my outfit inspiration for the day was more polar than pretty.
I pulled on thermal leggings, two pairs of 80 denier tights, a three-quarter-sleeved body, a vest top, a long-sleeved wooly leopard print dress, and heeled chunky hiking boots, ensconcing the lot in my navy coat and thoughtfully accessorising with two lots of gloves (a skinny pair of Thinsulates inside my ski gloves) and mismatched wooly hat and scarf.
What can I say; this beauty lark is all glamour.
Like any intrepid explorer/beauty blogger, there were all sorts of obstacles to overcome en route to the venue: deadly footpaths full of compacted snow, cancelled Tubes, bus drivers refusing to finish their routes and, perhaps most terrifyingly of all, gangs of pre-teen boys pegging snowballs at passing pedestrians and motorists alike.
All I was missing was my own theme tune.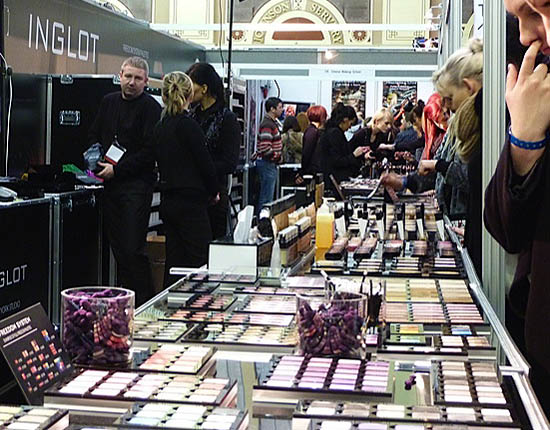 Browsing the Inglot freedom palette offerings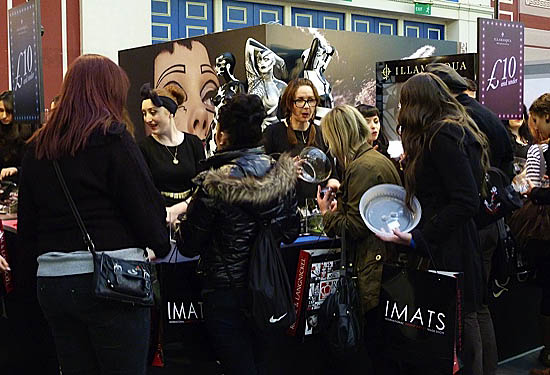 A mobbed Illamasqua stand
When I eventually made it up the steps to Alexandra Palace, humming 'Eye Of The Tiger' and marvelling at the girls trudging through the snow in stilettos (!) and ballet pumps with no socks (!!!), the first thing I noticed was the crowds of make-up fanatics swarming around some of the booths. Obviously, I had to have a looksee at what all the fuss was about; turned out that the MAC Pro, Illamasqua, and Inglot stands were the focus of all that attention from show attendees (and remained solidly mobbed throughout the duration of my stay.) Inglot's Freedom palettes, in particular, were selling like hot cakes.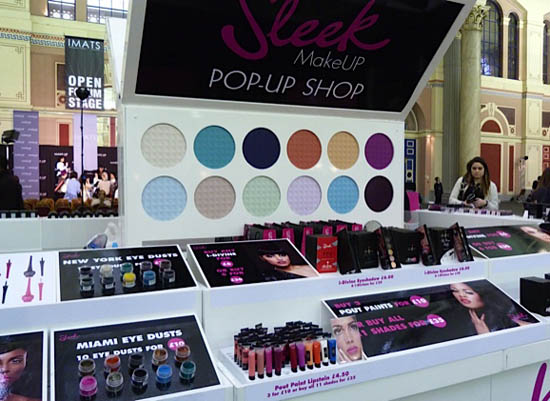 Forewarned that some of the exhibitors don't have the facility to accept card payments, I'd brought a bit of cash with me and set off around the hall to look for something to spend it on. I was a bit surprised to see a pop-up Sleek boutique, since they have such a wide distribution in the UK through Superdrug, but they seemed to be doing a brisk trade.
Several airbrush systems caught my eye, I was very taken with the special effects make-up – who doesn't love a good fake scar or an extra eye of a night out, eh? – and I had a good nose through the many stalls dedicated to brushes, applicators, and storage, but my sensible attire must have infected my attitude because despite the discounts on offer, ultimately I didn't buy anything.
Sadface.
Advertised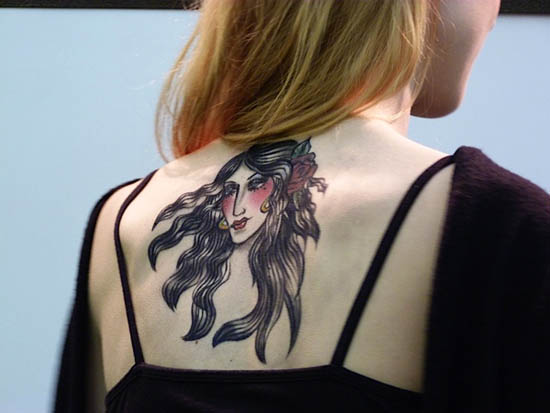 A "tattoo" created using Chromagraphic pencils at Mac Pro - impressive, eh?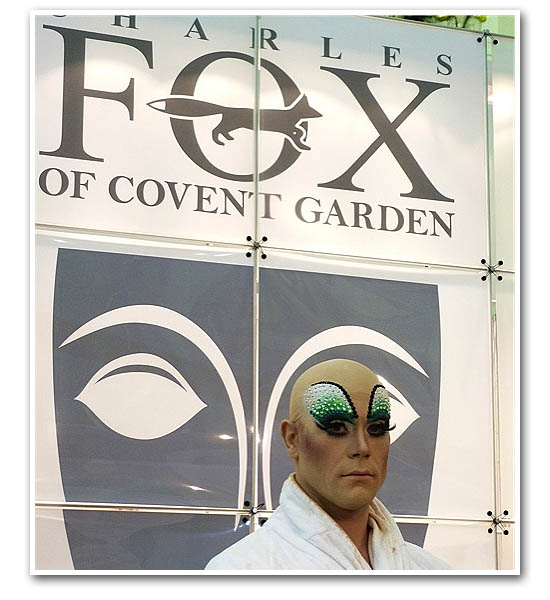 Super bling and cheekbones at Charles Fox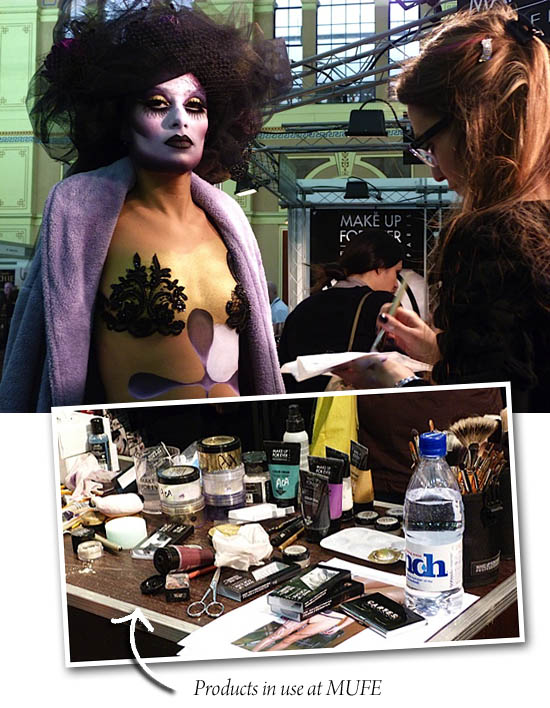 Make Up For Ever
The most interesting part of the show for me wasn't so much the slap that was for sale as seeing it being put to amazing use: between keynote speakers and demonstrations on the floor and across the IMATS stages, there were plenty of reminders that make-up is an art. At MAC Pro, Chromagraphic pencils were used to create intricate large-scale tattoos, while at the Make-Up For Ever and Somerset College stands, the whole body was being pressed into service as a canvas.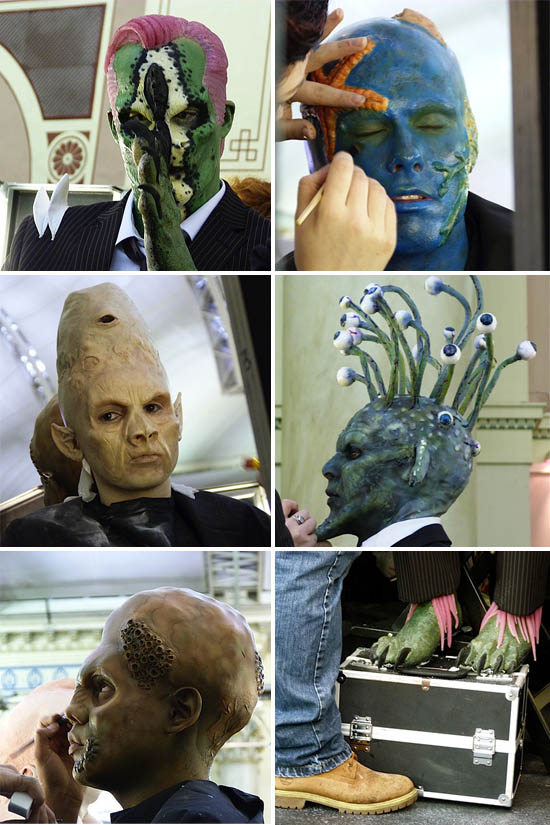 Some of the student entries at IMATS - the winner was the one bottom left
The student make-up artist competition, meanwhile, had a Men In Black theme.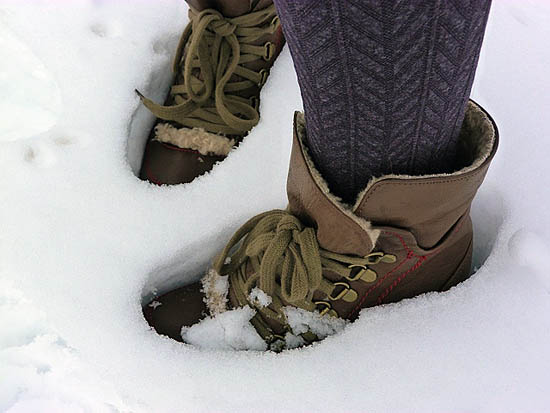 Brrrr!
I reluctantly headed back out into the snow and, as I began to freeze solid at the bus stop, occupied myself with a spot of people watching. And then a black cab pulled up, and of course I had a surreptitious goo at the IMATS-bound occupants, two girls, as they got out. I felt very covet-y of their unanimously gorgeous perfect skin and long dark wavy hair, and one of the girls in particular had the most amazing brows.
I was on the bus when I realised that I had been ogling Sam and Nic Chapman of Pixiwoo fame.
Advertised
Morto for me ma for havin' me!