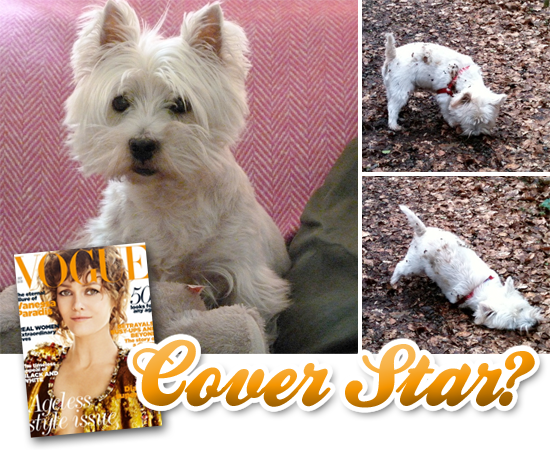 There are so many awesome things about moving to a new city, especially when you've spent the previous four years living in the sticks. Trying to find a new hairdresser is not one of them. I've had one wash and blow-dry in the time I've been here and otherwise have only crossed the threshold of a salon to get some Redken styling clay for Himself.
While I wasn't really bothered about trying to find a great hairdresser for myself this side of the pond, it was obviously imperative to find one for the dog.
Boris (yes, really) has been to his new regular groomer several times now, and it turns out I've inadvertently been sending him to the crème de la crème of London doggy salons. I nearly spat out my tea when I saw a review in Vogue - VOGUE, people! - of a treatment called the Ahava mud mask at the place he frequents, The Yuppy Puppy (yes. Really.)
It involves applying mineral-rich mud from the banks of the Dead Sea liberally to the dog's coat and skin, wrapping him or her up in tinfoil and warm blankets, and leaving the mud to do its thing for 45 minutes. It's supposed to be great for hair, skin and joints and the guinea pig dog from Vogue apparently loved it.
Advertised
I suspect that Boris would have to be strapped down and knocked out for a procedure like that, so we'll probably just stick with the standard wash, groom, and dry.
At his Vogue-approved groomers.
Unbelievable.