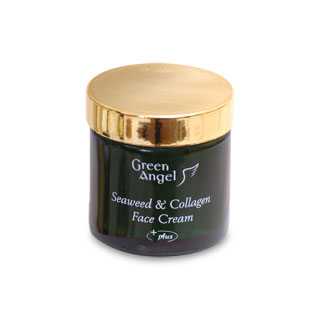 Irish made. Seaweed packed. Yummy extra ingredients like neroil and apricot. Yeah, all those things float my boat alright, and I know Aphrodite is a fan of skincare made from the vegetable of the deep too - she swears by Seavite's moisturiser, a luxurious skin treat packed full of the healing powers of the sea.
Green Angel prove that they're firmly on-trend so, with their 33-strong range that spans skin, body and spa products, all of which contain seaweed extracts and essential oils. Choose from cleansers, moisturisers, toners, scrubs and massage oils. Slather on hand and foot cream or lather up with shower gel - this range is meehhaaassive. If they start making seaweed foundations, the competition will be snookered.
So, why seaweed? It's naturally moisturising, full of nutrients and kind to sensitive skins, making it a great choice for those who react to traditional skincare. My facial pick is the Seaweed and Collagen cream, €28, which I can imagine is lovely and nourishing on dry, slightly older skin types. I've tried the Seaweed Hand Cream with Vitamin E & Neroli, €23. Light and easily absorbed, it's strongly scented with lavender and leaves skin soft and conditioned. Great for use pre-bed.

Advertised
Such thought has been put into the type and variety of products in the range, that to my mind only one thing lets it down - and in real terms, it's the least important thing  - the packaging.  More a criticism of superficial me than the brand, for sure - but I don't think I'm alone in wanting fab-looking products adorning my bathroom surfaces.  
What do you all think, though? Is that a completely mad way to look at a good, honest product range, or do you share my packaging-related feelings?