 I do enjoy a red or statement lip. Even if I pay little attention to my eyes (except for some concealer, mascara and brows, natch), I still feel like I'm getting my glamour on.
For those of you who are like me and want to look like they've made an effort but have limited time to do so, it's the trend that never goes out of fashion.
I took a look at Olivia Palermo's cosmetics range for Ciate yesterday (you can check that out here) and today I put one of her lippies to the test.
And I have to say that I was pleasantly surprised. It's not that I had little hopes for the product but I've always thought of Ciate as a nail varnish brand. I've always liked and admired their packaging but I don't think I've ever actually shelled out for one of their polishes.
But I think that I will be scooting to BTs to pick up another piece or two from this make up collection. First off, the packaging itself was impressive. It's a luxurious looking black and gold and the bullet of the lipstick (I tried Velveteen) itself is gold. The best part however, is the detail on the actually lipstick itself, of a tiny bow. I always love attention to detail.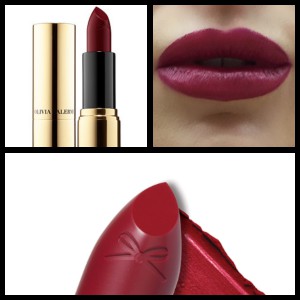 Advertised
And I reckon that the colour tone of Velveteen is a good pick for mass market appeal. Any blue toned red will be the most complimentary to most skin types, as it will always make your teeth look whiter and your skin more clear. And we know that it's a very wearable colour especially coming in to .... dare I say it.... The Christmas Season (it's ok cause Halloween is over).
It has a satin finish which means that it's not as drying as matte and it has a bit more dimension. It's heavily pigmented to give it long lasting power and bold coverage, yet it's creamy and easily applied.
I have to say, it's a lovely product all in all, even if the price point is slightly high at €22.
Whats your go-to red lipstick and why? And are you tempted to get smackers like Olivia?