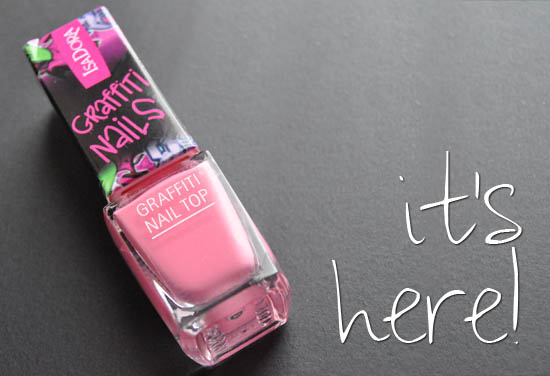 We fell for Isadora Graffiti Nails back in the summer, we waited for it to launch ... and waited ... and in the meantime, we took our eyes off the prize as Barry M scooped Isadora completely and utterly with the launch of Instant Nail Effects which we fell for ... looked for, became obsessed with, finally found, tried. And yes you can see where I'm going with this.
Anyway, Isadora Graffiti Nails should - fingers crossed - be making its way into pharmacies right about now and the brand sent me one of the six available shades last week. There are black, white, blue, yellow, pink and green on offer for €7.50 each and unfortunately I got the very one I'd definitely have passed on - the pink.
Oh well, I'm nothing if not capable of rising to a challenge, so of course I gave it a go.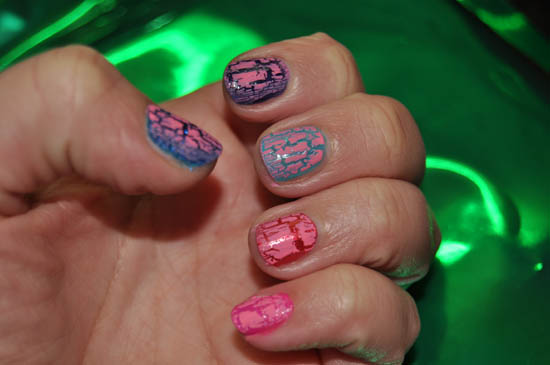 In application it's really like the Barry M version except the formula may be slightly thicker and the Isadora brush is better too. Here's how pink looks layered over (from thumb clockwise) Nubar Night Sparkle, Bourjois Bleu Mysterieux, Rimmel Sky High, Nubar Cabaret Red and Illamasqua Jo'Mina.
What do you think? I don't love it, to be honest. I think the pink topcoat may work best over metallics, black or white, and while I reckoned it'd be nice over a contrasting shade or a very dark creme too - hmm, it's not really. Sparkly red FTW, as you'll see below.
Advertised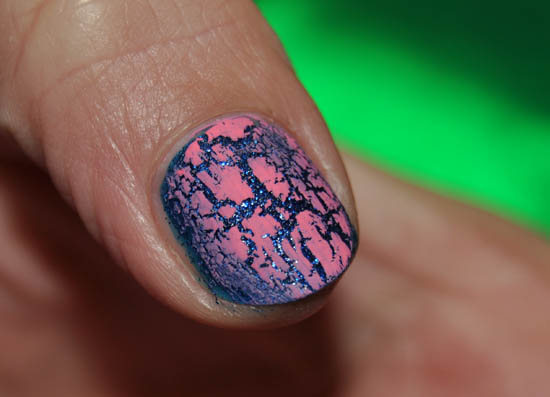 Here's how it looks over Nubar Night Sparkle.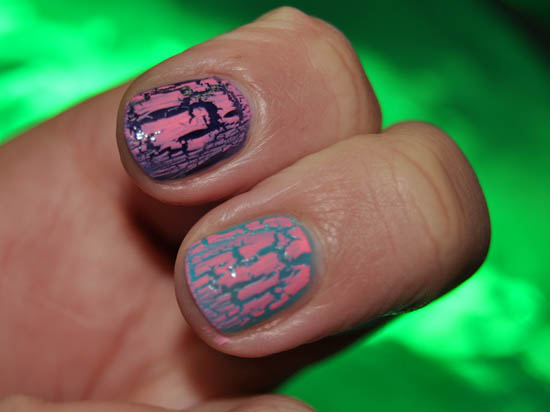 And over the Bourjois and Rimmel shades. Not feeling these combos at all.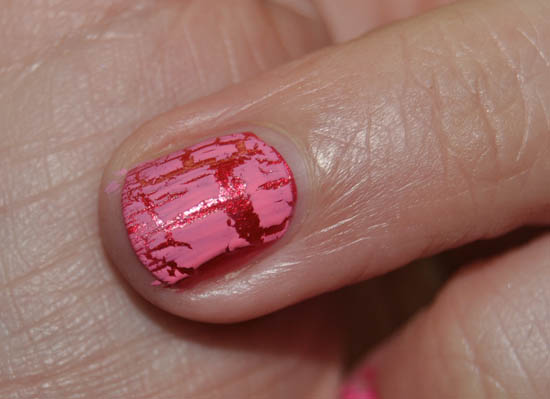 And over Nubar Cabaret Red - this is my favourite I reckon, it just looks the nicest. Excuse the shoddy paint job!
Advertised
While I'm not overwhelmed by pink as a crackle topcoat, I am definitely still keen to grab the white and the blue - I reckon I'd get the most use out of 'em. So what do think: gorgeous or gross? On the fence? Spill all in the comments.