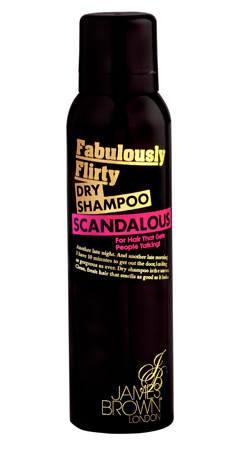 We got a heads-up on James Brown's new hair care and styling range, Scandalous, a while ago, and I've been using the Fabulously Flirty Dry Shampoo, €8.95, for a while now.
I'm almost to the end of my can and that's a pretty good sign I like it - if I didn't, it'd be languishing in the back of a cupboard, never to be seen by human eyes again.
But what  I like about this is it's quite light. There's nothing like Batiste for a quick-'n-dirty head full of white, grease-soaking powder, but it's rotten for anyone with fine hair because of that: it drags it down because it's too heavy. Bumble and bumble's hair powders are a great choice for the limp-haired but boy oh boy, are they spendy.
Advertised
So if you're used to the brute force of Batiste, you might take a while to come around to Fabulously Flirty's altogether more subtle ways. Since I switched to Pureology shampoo, my hair gets greasier a bit quicker (most likely because it contains no grease-reducin' SLS), so I'm using this a couple of days in. It doesn't dull hair, it doesn't add a thick layer of white, but it definitely gives you an extra day out of a wash as well as adds that bit of messy volume I really like.
Anything bad about it? Well, I'm not gone on the fragrance, as it's a bit florally-exotic for my tastes, but it's pretty subtle, so that's fine, and definitely not a deal-breaker.
Fancy some for yourself? Scandalous is available at larger Boots branches, like Liffey Valley.