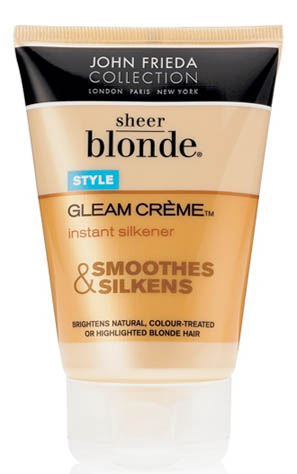 After my recent disaster with Toni & Guy's so-called "glossifier", I had pretty much given up on my quest to find a reasonably priced true post-blowdry hair glosser. Like so many things, it was only when I stopped looking that I found what I was after: one landed in my lap last week courtesy of a visit to Himself's aunt and uncle.
Love houses where you can arrive for a cup of tea and a biccie with both hands hanging and leave with goodies!
Initial signs were promising where John Frieda Gleam Creme Instant Silkener was concerned. The directions stipulate that it's to be applied to dry hair - win! - and according to the blurb, it's supposed to brighten natural, colour-treated or highlighted blonde hair.
Advertised
I used a pea-sized amount from mid-length to ends and it worked perfectly to tame flyaways and static frizz and add shine without weighing hair down. I did notice that a little goes a long way, though, and applying too much or using it too close to my roots was just asking for greasiness.
Note: this was part of a Sheer Blonde gift set that I see is priced at €12 on Sam McCauley's website.